"Ah yes, Diwali!  Better known as the 'festival of lights, Diwali takes place during the month of Ashirvad.  I know it ushers in the Hindu new year and takes place in the early fall – during traditional harvest times – it also celebrates good over evil as Hanuman and Lord Ram defeated the evil demon king Ravana. 
Diwali also commemorates the great Hindu God Ganesh!" Indeed, if you are Hindu, or even Indian, Diwali is a very important religious celebration for you.  And if you want the blessings of Ganesha in your house, you should do the following during this celebration!
How to decorate your home during Diwali
Many diwali decoration ideas abound.  Some using paper lampshades in your house to give it that beautiful, 'oriental' look.  You can also use the glass jars holding various foods you buy at the store.
They can give your house added beauty and flair if you paint them different colors.  Doing so will add a splash of color, light, and personality both to the jars and to your house!
A great way to decorate your house during this auspicious occasion is to make rangolis, or religious symbols, out of flowers, rangoli powder, or both!  
Do this if you want your house to look like Lord Rama's palace during Diwali!
You can pick up many Diwali home decoration ideas and tips, especially if you ask your friends and look up various Diwali sites on the Internet. 
Pinterest, the great diy site for home decoration and arts and crafts projects ideas, has many sites showing beautiful rangolis you can make for your home, either out of various colored powders, flowers (or both!). Here are some rangoli designs you can opt for:
You can also decorate your home with Diwali cards which you post throughout your house. The ideas and methodologies are simple.
One great way to decorate Diwali cards is to string different colored pieces of satin fabric through them to make the complex designs and symbols traditionally associated with this festival of lights!
How do you make your office 'Diwali friendly?'
"Wait, I have heard about making my office handicapped friendly, but never Diwali friendly!  Please explain this concept to me!" Gladly!  One great diwali office decoration idea is to use colorful drapes to make your office 'Diwali compliant.' 
This will also give your office an added personality, flair, and a splash of color and life which your customers and employees alike will appreciate. 
"That's a great idea, but where am I going to get the fabric from to make drapes in my office?  Are there any special arts and crafts stores selling this type of material?" Actually, the answer to your question lies in plain sight with the ordinary materials you wear every day. 
Did you know that you can easily make colorful drapes by using the sheer, multicolored sarees and dupattas which you no longer wear to decorate your office with?  The drapes can be 'spruced up' with the addition of some string lights which will really make them 'come to life!'
Another great way to 'bring your office to life this Diwali season is to string different colored garlands and oriental paper mache lanterns around it. 
You can make these garlands out of artificial flowers (real flowers will eventually wilt and pose problems in your office) or out of pieces of hard crepe paper.  The lanterns can be made out of different types and colors of paper mache or arts and crafts paper!
How to find the perfect Diwali rangoli design
I would love to decorate my house with many beautiful diwali rangoli designs,but I have no idea how to do this!"  Well, have you tried consulting DIY arts and crafts magazines for various Diwali decorations or asking your friends? 
If the answer to this question is a resounding, "No!" you can use different colored flowers to make these designs (as mentioned earlier.) 
The color combinations, patterns, and designs you can use in and around your house are endless! Flowers are the preferred material for Diwali rangolis because they symbolize purity. For more creative and latest diwali rangoli designs click here
Now there is no excuse!
Now that you have some insight into the many designs you can use to decorate your house and office this Diwali, you have no excuse.  Start to make those wonderful designs right now for the Diwali you will never forget!
Your would also like to read some best vastu tips for home
Use these Vastu tips to invite grace into your Diwali
Diwali is a five-day festival of glitter and gold. Indians and Hindus worldwide celebrate this festival irrespective of their financial status. People do a lot of decoration, dress up this day, and exchange gifts as well. However, it is not just the glitz and glamour that completes this occasion. The festival is also based on inviting the grace of Ganesha, a Hindu god. 
So these tips help to invite Ganesha gracefully into your homes during this Diwali.
Tip #1: Set up your Pooja Room well
If possible, set your Pooja room in the northeast direction of your house. Keep a new cloth to clean the photos and idols. Avoid wearing dark colours while performing puja.
Tip #2: Place your Idols' Gods correctly
Don't place same god of two idols in pooja room. There should be sitting position of idols, make sure they do not face the door of the puja room.
Tip #3: Get rid of waste
You should clear all the waste items before Diwali to make space for new items. The front door is related to opportunities, according to Vastu Shastra. So keep your home to new opportunities by removing the clutter from your home.
You may like to Read – Beautiful Peacock Rangoli Designs with Easy, Simple Tricks & Images
Tip #4: Remove Negative Vibes from the House
Worship certain gods to remove negative vibes from your house before Diwali. You can also practice meditation for this.
The story behind the worship of Ganesha on Diwali
One fine day, Laxmi talked to Ganesha, elaborating on how she could make anyone wealthy. The show was boasting of her accomplishments, but it sounded egoistic to Vishnu. So he sang that women who do not exeoreucne otherhood are incomplete in reducing their ego. 
This disheartened her, and she went to Parvati and asked for Ganesha as a child, as she was quite fond of her. Hence, every time we speak of Laxmi, we also speak of Ganesha, especially on Diwali.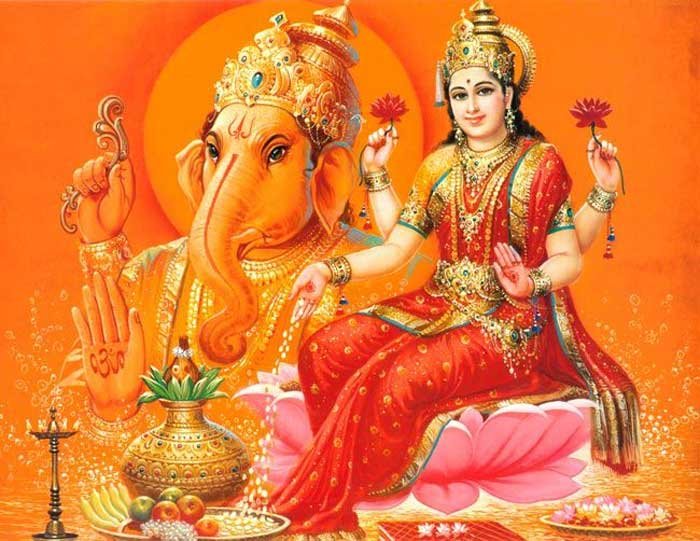 Another reason is that wealth is not lone important; you need the wisdom to handle and multiply the wealth. So worship of Ganesha is important on Diwali. He is the god of wealth, luxury, and prosperity. So these two are worshipped together on Diwali. 
Diwa is considered an auspicious day. So every celebration is incomplete without the worship of the goddess of wealth and the god of wisdom and intelligence.
You can decorate your walls with wall prints of Ganesha. You can prepare delicious snacks for your thali on the day of Ganesha puja- kothimbir Vadi, alu adi, Dahi poha, batatyachi sabzi, and not to forget the delicious modaks! Ganesha is also known for its penchant for food, which is the main reason for the celebration of Diwali.