The selection of materials is crucial in interior design for achieving both aesthetic appeal and practical durability. Veneer and laminate are two common materials for covering walls, cabinets, and furniture.
Although these two materials can initially seem to be identical, there are important variances between them. In order to help you choose wisely for your next design project, this blog article seeks to explain the distinctive qualities of veneer and laminate. 
It does this by illuminating their construction, applications, benefits, and downsides.
Veneer: Natural Elegance 
The term "veneer," which comes from the French word "finer," refers to a thin covering of genuine wood that is usually adhered to a substrate. Due to its natural constituents, this material has a unique and opulent appeal. The following distinguishing characteristics of veneer are highlighted: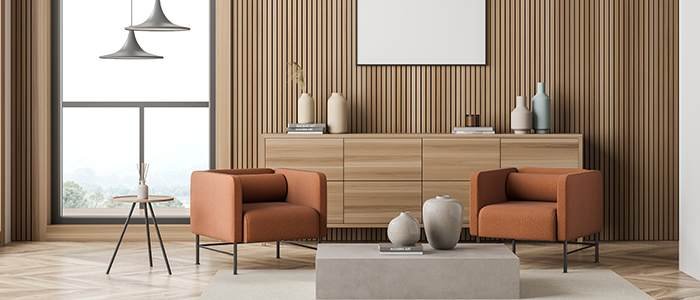 Composition:

Veneer is made by slicing, peeling, or sawing logs into thin slices of natural wood. Veneer options range from classics like oak, mahogany, and walnut to more exotic woods like zebrawood or ebony.

Authenticity:

As a natural material, each veneer sheet has an own pattern, colour, and feel. This gives a sense of authenticity and refinement, making veneer highly sought for in high-end interior design projects.

Application:

Veneer is widely used in the production of furniture, cabinets, wall panelling, and doors. Its adaptability allows it to be sculpted, curved, and moulded to meet a variety of design needs, resulting in a

seamless and exquisite finish

.

Maintenance and Durability:

Veneer is sensitive and must be protected from moisture, heat, and direct sunshine. While it resists scratches and wear effectively, it may not take strong impact as well as certain other materials.
You should also know about these different types of Wood Veneers.
Laminate: Practical Versatility 
Laminate, on the other hand, is a synthetic material designed to mimic the appearance of natural surfaces. It has a variety of design possibilities and is well-known for its functionality and durability. Laminate has the following distinguishing characteristics:
Composition:

Laminate is made up of many layers, including a decorative layer, a core layer, and a protective top layer. The

ornamental layer

can imitate a variety of patterns, textures, and colours, such as wood, stone, and abstract motifs.

Affordability and Variety:

Laminate is often less expensive than veneer, making it a popular choice for low-budget applications. It provides a wide range of design options, allowing homeowners to experiment with new layouts and aesthetics without breaking the bank.

Resistance and Maintenance:

Surfaces made of laminate are extremely resistant to scratches, stains, and fading. They are simple to clean, requiring simply a wet towel on a regular basis.



Excessive moisture exposure

, on the other hand, might produce swelling or delamination, rendering it unsuitable for use in specific situations such as restrooms.

 

Application

: Laminate is frequently utilised for kitchen countertops, flooring, cabinets, and wall panels in both home and commercial settings. It is especially popular in high-traffic areas that require durability and ease of upkeep.
You may also like to read – Two-Variety Blend Laminates For The Kitchen 
Veneer vs. Laminate: A Comparative Analysis 
Now that we've looked at the distinct properties of veneer and laminate on their own, it's time to compare the two. The following characteristics emphasise the fundamental differences between veneer and laminate:
Appearance: With its realistic wood grain, veneer provides a natural and rich appearance, whereas laminate mimics the appearance of numerous materials but lacks the depth and authenticity of real wood.
Price Range: 
– On average, veneer sheets might cost between INR 200 and INR 2,000 per square foot. Exotic or unusual wood species may be more expensive. 
– The cost of laminate sheets might range between INR 50 and INR 300 per square foot. 
Laminate is often less expensive than veneer.  Higher-end laminates or specialised patterns may have a higher price tag. Because of its natural composition and sophisticated production process, a veneer is often more costly.
Durability: Veneer has moderate durability and is vulnerable to moisture, heat, and scratches, but laminate is very resistant to wear and tear and is, therefore, better suited for high-traffic areas.
Maintenance: Veneer requires more sensitive care and refinishing on a regular basis, but laminate is low-maintenance and can be cleaned with minimum effort.
Also Read – Marble vs Granite vs Tiles
Veneer Brands
Greenply: Greenply is a well-known brand offering a range of veneer options. Prices can range from INR 1500 to INR 5000 per square foot, depending on the wood species and quality.
Century Ply: Century Ply is a popular veneer brand in India. Their veneer prices typically start from around INR 1000 per square foot and can go up to INR 4000 or more, depending on the selection.
Sonear: Sonear is another reputable brand that offers veneer solutions. Prices for Sonear veneers can range from INR 1200 to INR 4000 per square foot, depending on the type and grade of the veneer. 
Laminate Brands
Greenlam: Greenlam is a leading laminate brand in India, offering a wide range of designs and textures. Prices for Greenlam laminates can start from approximately INR 100 to INR 500 per square foot, depending on the design and thickness.
Merino: Merino laminates are known for their durability and aesthetic appeal. Prices for Merino laminates typically range from INR 100 to INR 400 per square foot, depending on the design and quality.
Sunmica: Sunmica is a well-established laminate brand in India, offering a variety of designs and finishes. Prices for Sunmica laminates can start from approximately INR 80 to INR 300 per square foot, depending on the design and thickness.
You should also consider Sunmica sheet designs here. 
It's important to compare prices, quality, and warranties offered by different brands before making a final decision.
Personal tastes, project needs, and economic concerns all play a role in the decision between veneer and laminate in the realm of interior design. While veneer has a natural elegance and distinctive appeal, laminate has the added benefit of practical adaptability and cost. 
You may make an informed selection that corresponds with your design vision and project objectives if you understand the various features of these materials. 
Remember that both veneer and laminate have advantages and disadvantages, and it's critical to weigh these variables in the context of your individual design goals.
Consider Reading

:-