A brick wall design or brick wall is a wall made of bricks, typically arranged in a diagonal or another pattern that interlocks with adjacent bricks.
Brick walls have been used for centuries to create strong and durable structures, and their popularity continues today.
There are many different ways to design a brick wall, and each has its advantages and disadvantages. The brick wall has a very warm and inviting feel to it, which is perfect for homes with more traditional décor.
Finally, brick walls can add a lot of character to your home and make it stand out from the rest. If you're looking for a way to give your home a unique edge, then brick wall design is something to consider.
Brick Wall Designs
1. Exposed Brick Wall Design
Brick walls are a popular design element in both homes and businesses. They offer a rustic, industrial look that can add character and charm to any space. You need to use the best cement in india while making a brick wall for durability and stability.
Exposed brick walls are created by leaving the bricks uncovered, giving the wall an unfinished look. You need to check the compressive strength of brick before making such walls. This type of design is perfect for lofts or other spaces with high ceilings, as it can help to make the room feel larger and more open.
First, exposed brick walls are not as easy to clean as covered ones, so you'll need to be prepared to do a bit of extra upkeep.
Second, exposed brick can be susceptible to damage from water and other elements, so it's important to seal the bricks before exposing them.
Finally, exposed brick walls can be drafty, so you may want to consider adding insulation to the space if you live in a colder climate.
Also read about gate pillar design here.
2. Whitewashed Brick Wall Design
Whitewashing is a popular way to give brick walls a more subtle look. To whitewash your brick wall, simply paint it with white washable paint.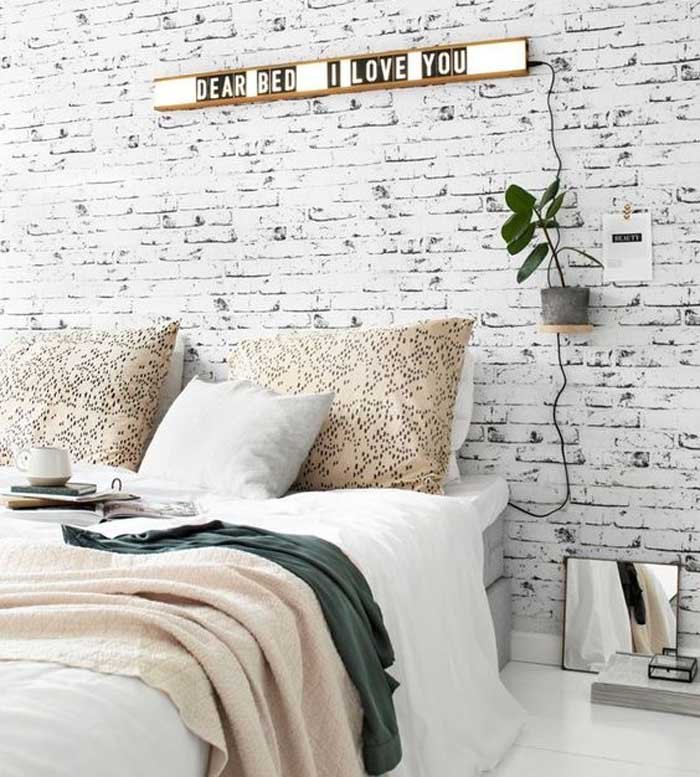 You can also add a distressed finish by sanding down the edges of the bricks after the paint has dried.
3. Painted Brick Wall Design
Painted brick walls can add a unique style to any home.
Choose the right color: The color of your painted brick wall will set the tone for the rest of your home.
A matte finish will give your wall a more natural look, while a glossy finish will make it stand out more.
Apply the paint evenly: When painting a brick wall, it's important to apply the paint evenly. Use a brush or roller to get even coverage.
Let the paint dry: Once you've finished painting your brick wall, let the paint dry completely before hanging any artwork or adding any furniture.
Give your boundary wall design a new look with this brick wall.
4. Brick Wall Designs with Shelves
Adding shelves to a brick wall is a great way to add storage space and style to any room.
The Floating Shelf: This shelf is simple and elegant.
The Ladder Shelf: This shelf resembles a ladder and is perfect for displaying plants or other items that need to be hung up high.
Also, read about parapet wall designs here.
5. Herringbone Brick Wall Design
This unique pattern can add interest and visual appeal to any space, and it's easy to achieve with the right bricklaying technique.
To create a herringbone pattern, start by laying your bricks in a row of two side by side. Herringbone patterns are often used as accent walls or backsplashes, but they can also be used to create entire walls.
If you want to try something truly unique, consider using different colored bricks to create a colorful herringbone design.
Read and view images for normal house front elevation designs here.
No matter what style you choose, herringbone brick walls are sure to add personality and interest to your space.
6. Kitchen Brick Wall Design Ideas
If you're looking for a unique kitchen backsplash, a brick wall is an option to consider. For example, you could use brick tiles to create a mosaic pattern. Or, you could use larger bricks to create a more rustic look.
If you're not sure how to incorporate brick into your kitchen backsplash, take a look at these kitchen brick wall design ideas for inspiration.
For example, you could create a mosaic pattern with different colored bricks.
Check the front elevation designs for small houses here.
If you're looking for a more modern take on the brick backsplash, you could use brick panels instead of tiles. Brick panels offer a clean and sleek look that can be used to create a variety of different designs. Plus, they're easy to install and maintain.

If you want to make a statement with your kitchen backsplash, you could use a brick mural. Brick murals are a great way to add character and history to your kitchen. Plus, they're easy to clean and maintain.

Whitewashed brick is a popular choice for kitchen backsplashes because it offers a clean and fresh look. Plus, it's easy to clean and maintain. And, if you ever get tired of the whitewashed look, you can always paint over it with a different color.

You can use any color of paint that you want, which gives you a lot of flexibility when it comes to design.

If you're looking for a more creative way to use brick in your backsplash, you could try stenciling.
7. Accent Wall Ideas
Consider the color of the bricks. If you want the accent wall to stand out, choose a brighter or bolder color.
Second, consider the size of the bricks. If you want the accent wall to be more noticeable, use larger bricks. If you want the accent wall to be more subtle, use a smaller brick size.
Consider reading about acp sheet design here for front elevation designs.
Third, consider the texture of the bricks. If you want the accent wall to be more textured, choose a brick with a rougher surface. If you want the accent wall to be smoother, choose a brick with a smoother surface.
No matter what style you choose, an accent wall is a great way to add personality and interest to any room.
Conclusion
Brick is a flexible material that may be utilized in a wide range of styles in your kitchen. Whether you want a conventional, rustic style or a more modern design, brick is an excellent option. It's also simple to maintain and clean, making it ideal for busy households.