Do you know how you can find the best paint for yourself that goes well with the furniture and enhances the overall look of your house?      
Paints give the requisite finish to your hose that it always needs. So in this blog, we will discuss the types of paints. Before handpicking your shades, it is necessary to know how various pints work and function.   
There are various types of paints, such as oil, emulsion, bituminous, aluminum, anti-corrosive, synthetic rubber, cement, and the like. We will discuss some of the most popular and trending paints in detail. So let us get into it to know about their characteristics. 
This is a type of old paint, and you will find its usage from the earliest historical civilizations. It is composed of water, chalk, and pigment and produces a whitewash mix. It is like a whitewash bound with animal-based gluish qualities. It is adhesive like casein, a solidified milk form.
This paint s not durable. It is thus used for temporary and non-expensive projects. Did you know it has many uses regardless? Let us see what its uses are. 
Anciently, this paint was used in homes as interior paint. It was employed for painting walls and house decoration items. It is prone to stains and gets marks, and gets wet easily. It can be used in the outside painting of houses if the areas are dry and there is no rain chase.  
Despite these shortcomings, it was a popular painting because it was cheap and high-quality. It dries up quickly; if any marks are left accidentally, you can wipe them off with a rag. So it works as a great paint for the house. 
It was used continuously from ancient times to the 19th century. But, later on, latex paints and oil paints came in. so the usage of the former declined. The historic structures continue to be painted by it. It is still used in temporary paintings. 
This type of paint looks hard ad glossy. It is used in nail paints. Crafters employ its usage for small crafts in vivid shades. This paint is mainly used to provide finishing touches to the walls after all the necessary coatings.
It is more of its quality rather than content or quantity. So it works as a solvent-based paint that dries and becomes hard. You can synchronize the meaning and definition of this painting with smelting or melting. Enamel is like a glass coating that is melted or baked on high heat. 
It looks a little like molten glass. The paint, however, has no glass content in it. It is just composed of enamel-based solvents. Air drying is a preferred method rather than using a kiln. Until the 1840s, this paint was employed only for watches and jewelry. After a decade, It was used more in anti-corrosion things.  
Plastic Paint
You may wonder why this name has been given to this type of paint. It is simply because it is an oil-based paint that gives a plastic-type look to the wall after it's finished. It employs water for thing its texture.
Its usage is on the ceilings of auditoriums, showrooms, decks, etc., in various colors. They give a glossy finish to the wall. However, since it has a glossy finish, it is more prone to scratches. Even some top layer gets easily removed up on a minor jerk.
It also gives out a very powerful odor that can be dangerous to cause lung diseases. It is costlier and non-durable compared to the above-listed paints. However, these can be opted for if you want to paint special surfaces. 
Royal Paint
This type of paint is a choice, and that too a flawless one, if you want a grand look on your walls. It gives your home a transformation that you are sure to fall for! These paints are not very expensive and require almost no maintenance.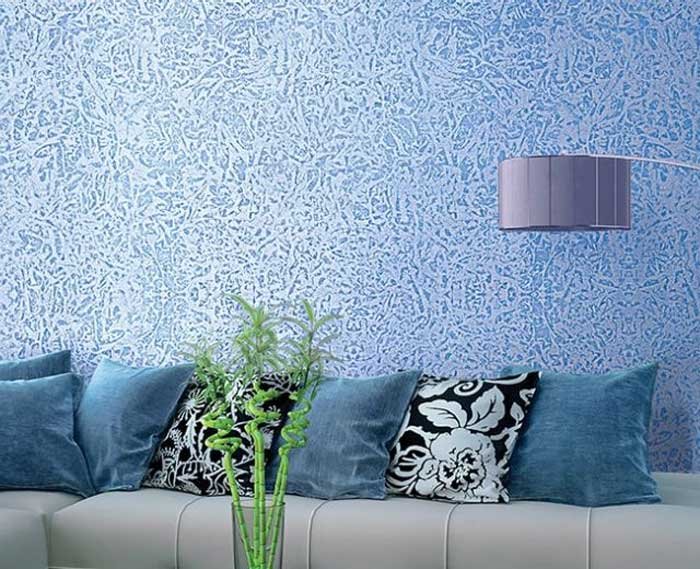 They do not emit a lot of odor as well. If you have a home with children, this is the best choice of paint for you. They give an elegant finish to your room, making it easy to clean off all the dirt and dust. Use a wet cloth for a regular stain, and it will disappear.
These paints also act as wall protectors. They wash the stains off the wall and even protect it from harmful and long-lasting stains. These paints do not lose their color even after a decade. These are sleek, beautiful, and differently available. 
This type of paint serves the specific purpose of protecting your wall against dampness. It is used for interior walls. It can also be employed in the form of a primer. You can use it before giving a decorative finish to your wall.
Before applying it, you should clean the affected area well. If there is any old paint coating, you should remove it first. Furthermore, make sure that the area is free from fungi, debris, or lichen, for that matter.
You should wear a mask while performing these duties. It is dangerous to inhale the paint. Do not stretch the paint to cover the larger dampness of the wall. Use the specific amount to ensure proper results. It will give a smooth finish and dries in one hour at most. 
Conclusion
To sum up, these were some types of paints used these days for small and large purposes. These serve a specific purpose and give your home a good look. So check these different paints out, and opt for one that best fits your room.