Obtaining a place must be one of your greatest joys, but rebuilding it in an assigned budget is essential. How do you maximize your space while showing off your sense of style? If you do it right, you will have a comfortable and happy home. 
If not done correctly, the color combination of furniture, fabric, and paint will never be beautiful. You will be lucky to use a professional interior designer to make a small plan and step. 
Rebuilding your home with minimal things to make it more beautiful is something everyone wants to do once in a lifetime. 
Hiring an interior decorator or looking for websites offering home accessories are two ways to acquire the brand-new home you have always dreamed of. Now let's dive into what the title says.
Does home decoration represent your personality?
'Home decoration portrays your personality' Is it a thing? Does it matter what I have or how the house is decorated?
The answer is based on how you perceive things in life and reflect productivity through a work of art.
Decorating your home is an opportunity to create a space we love, and it says a lot about our personality. Everything from your colour choices to the number of pillows you put on your couch is your chance to create an environment where you and your loved ones can thrive and make a name for yourself. 
You can create a calm space with a simple colour scheme, a cosy and attractive home with a warm volume, and a bright and lively entertaining space with a bold pattern.
How does it affect our self-perception and confidence?
Home decor is an integral part of human psychology. Lighting, colour, composition, scale, proportions, sound, and materials influence the human senses and create a variety of feelings and experiences. 
Also Read: The Complete Guide to Wallpaper to Decorate and Design Your Home
Specific design principles can bring harmony, balance, proportion, symmetry, and rhythm. Colors are something that is considered to foster your psychological thinking. The warmer the color, the narrower the space.
Simple Rebuilding Ideas for your home
Focusing on the main areas built before entering more difficult tasks must be given the maximum priority rather than wasting your efforts and often emptying the pocket.
That way, you won't feel heavy. It won't impact your financial decision either. And also you should think about 3 Bedroom House Plans & Modern Designs for standard changes. 
Let's discuss some home improvement ideas that you can keep in mind to make your home look fresher and brand new under a constant budget factor :
Go for Green House
Small plants and outdoor plants would make your home green and make it more relaxing and lively. 
DIY Things 
Don't stop at your DIY magic because creating things and creating yourself would develop a sense of self-fulfilment, and the home would look more aesthetically pleasing and calming. Some ideas you can start with are as follows: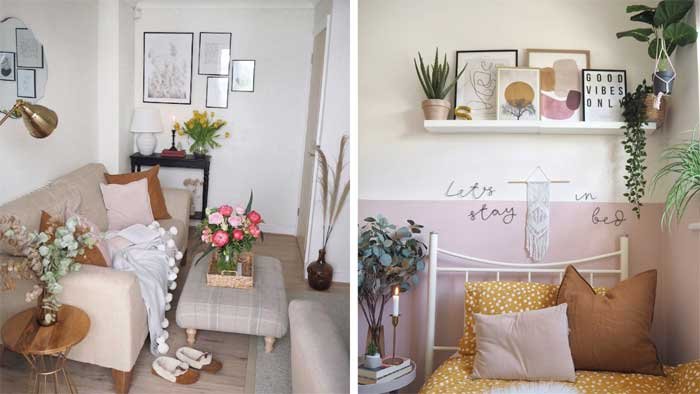 Improved Blinds- 

Instead of installing standard blinds, go above and beyond.

Strips of fabric tape

in different colours can give your blinds a unique feel.

Pillow Pocket- 

Is it still hard to find remotes? Instantly turn on your TV by removing the remote from the pillowcase. First, cut pockets from old jeans and sew them with the pillowcase. Then iron the two layers together.

Pendant Lights and bowls- 

To make your table look more presentable or attractive, try this

DIY trick to decorate

a shelf or light up the dining room after inviting your friends or guests. All thanks to this native idea!
The DIY list is limitless, but the ideas mentioned are the most popular ideas you can come up with to transform your daily lifestyle. There are many popular DIY small ideas with cozy reading spots which help to make your house more beautiful.
Splash of colours and stable lighting 
Most of us have a vision we want to achieve when it comes to home furnishings. There is always a feeling in the corner of my heart that if you add something, the whole will feel complete. 
One way to do this is to add color and appropriate lighting to decorate the room without completely changing the current theme or design.
Using large mirrors
Adding a single large mirror to one of the lower rooms can make it more aesthetic and appealing. People usually think that adding mirrors restricts a lot of space, but it adds more coherence to that particular space. 
Updating Staircases
The first place where guests or relatives notice when they kick the stairs. The selection of an appropriate architectural approach during the reconstruction of the stairs is necessary.
Therefore, choosing a suitable design and carpet becomes important to make it more elegant and enchanting when you have guests over. Along with it, you should also remember the safest choice for your staircase with glass railings. 
Conclusion
Building a house of your choice and taking a step forward with the rebuilding phase is not easy these days. It requires good planning, attention, and practical implementation to happen in the best possible way. You can rely on DecorChamp without question or doubt for the best results and ideal solutions to complete all these necessary steps.