Cork boards emerge as a surprisingly flexible tool for bringing usefulness and elegance to your living spaces.
These plain cork boards may be converted into dazzling displays that not only serve as functional organisers but also add to the overall ambience of your house.
This article will look at a number of creative cork board ideas that may add beauty and organisation to your living areas.
Memory Lane Cork Board: Preserving Moments and Milestones
The Memory Lane Cork Board goes beyond simple home décor to become a link to your own experience. It's a mesmerising kaleidoscope of recollections, a physical chronicle of your most treasured moments in life.
Consider a part embellished with fading postcards from that wonderful road trip, secured in place by charming pins. Graduation tassels, formerly kept away, now take centre stage, pinned beside images of happy tears. 
Through a mosaic of ticket stubs, concert wristbands, and Polaroids, the Memory Lane Cork Board tells stories of victories and tragedies.
Also read about: Jharokha pattern
This board is more than simply a decoration; it's an emotional haven. When you look at it, it transports you back to the joy, emotions, and adventures that have created you. It's a visual narrative about your trip that will speak to anybody who has ever felt the tug of nostalgia.
Productive Command Center: Streamlining Your Tasks
A cork board might be your greatest friend in preserving order in today's contemporary tornado of duties.
Set up a cork board in a room of your house to serve as a productive command centre. Include a monthly calendar to help you keep track of appointments, deadlines, and activities. 
Sticky notes may be used for fast reminders and to-do lists, ensuring that no work goes forgotten. You can easily synchronise your chores, objectives, and family responsibilities with this visual help at the core of your workstation or kitchen. 
The cork board not only clears your mind but also adds a rustic beauty to your surroundings, making it a functional yet visually appealing organisation option.
Green Oasis Cork Board: Bringing Nature Indoors
The Green Oasis Cork Board emerges as an innovative and original innovation in the effort to fill your living spaces with the tranquillity of nature.
Consider a vertical garden mounted on your wall, with miniature potted plants or hanging planters nestled on the bumpy cork surface. 
This concept not only provides a touch of greenery to your rooms, but it also improves their visual appeal.
You may also like to read: Wall almirah design
It's especially useful for people who live in cities or small apartments with restricted access to gardens.
The Green Oasis Cork Board not only cleans the air, but it also acts as an aesthetic expression, transforming your living area into a calming refuge of nature's beauty.
Inspirational Mood Board: Cultivating Creativity
A cork board inspirational mood board may be a wonderful tool for promoting creativity. Begin by pinning inspirational morsels that speak to you: phrases, photographs, color swatches, and magazine articles. 
This visually stimulating setting serves as a daily dose of incentive, motivating you to try new things and see things from fresh angles.
As you curate your mood board, you'll discover that it becomes a creative energy reservoir, assisting you in overcoming artistic barriers and driving your projects. 
Whether you're an artist looking for new ways to express yourself or a business owner pondering new ideas, this cork board adaption gives a concrete location for your creative sparks to ignite, thereby improving your originality and innovative thinking.
You should also read: Bottle painting ideas
Culinary Cork-board: Celebrating Food and Recipes
Enhance your culinary experience with a cork board that honours your passion for food and cooking. This board is both a useful culinary tool and a pretty decorative element. Pin your favourite recipes, from family heirlooms to new discoveries, so they're always close at hand.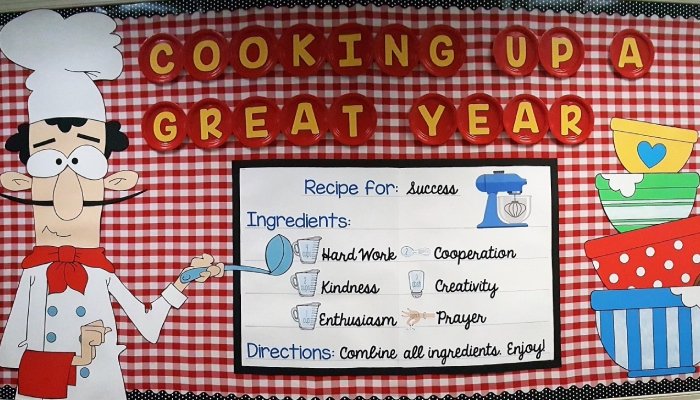 Hang necessary utensils, aprons, or oven mitts on hooks for convenient access. Because of the smoothness of cork, you may pin flavour packets, grocery lists, and even meal prep timetables. 
Your culinary cork board becomes a dynamic synthesis of organisation and craftsmanship with a touch of creativity, filling your kitchen with a warm and inviting ambience that connects with your enthusiasm for all things gourmet.
Kids' Corner: Encouraging Creativity and Learning
Creating a dedicated cork board in your home's children's section may be both utilitarian and inspiring. Begin by pinning instructional flashcards, spelling charts, and multiplication tables to encourage interactive learning. 
The cork board may also be used as a tiny art gallery where your children can proudly show their colourful creations, which will increase their confidence and inventiveness.
Hooks may be used to hang tiny baskets containing art supplies, fostering tidiness and independence. 
Here you can read: Vastu for Dancing Ganesha Painting
The cork board may change with your children, fitting school schedules, exceptional milestones, and changing interests, creating a dynamic environment that evolves with them while filling the room with a vivid, lively ambience.
Travel Bucket List: Mapping Your Adventures
Transform your cork board into a compelling trip bucket list to escape the mundane. Begin by pinning a huge global map, which will serve as the visual background for your wanderlust-furled fantasies.
Mark the places you want to visit with colourful pins or strings, kindling your feeling of adventure every time you see it.
Attach fragments of vacation brochures, intriguing postcards, and photos from previous travels to motivate yourself. Include inspiring words that honor the spirit of adventure with your map. 
This dynamic cork board embodies your desires, reminding you of the enormous globe waiting to be discovered and converting your travel ideas into attainable goals.
Conclusion:
Finally, the modest cork board shows to be an exceptional canvas for creativity and organisation. With a little creativity, you can turn an ordinary object into a centrepiece that adds character, charm, and practicality to your house. 
The possibilities are as boundless as your imagination, from preserving memories to optimising activities. So gather your favourite souvenirs, images, and ideas and set off on a trip to remodel your living spaces with these enticing cork board ideas.
Consider reading:-