A wooden study table adds comfort and charm to your study environment and is a suitable workplace. There must be a space in every home where you can read and collect your thoughts, where you can work, write, and read without interruption. It may be a modest study space, a nook in your living room, or even your bedroom.
But without awooden table for study, the space is lacking since a study table makes it easier for you to read, write, and work at home. Long gone are the days when bulky wood study tables took up half your room and only served a few purposes.
The incredible design of today'ssmall study tablesoffers a single answer to your demands, including storage, exhibition, style, and many other things.
A goodwooden study table for studentsat home is urgently needed as the globe transitions to remote working and studying modes. An ergonomic wooden study table will transform the tedious task of doing your homework and other schoolwork into an easy-to-focus activity.
Wooden study table designs come in various types, from those with a flat tabletop and a few drawers to foldable models with additional shelves and secret storage.
Your home study table should have enough room and storage to handle your files, notes, laptop or desktop, and stationery. Since the wooden study table design should complement the aesthetics of the rest of your home's decor, its shape is also crucial.
The Essentials of a Wooden Study Table
Many styles of wood study tables are available in stores and online. A wooden study table for students offers your children comfort while preventing any health problems brought on by poor posture.
A stylish and lovely wood study table design, especially aSolid Wood Study Table, is also essential to maintain your child's enthusiasm for doing homework assignments at home and in class. A well-designed wooden study table design will boost productivity and the ideal atmosphere while also helping you focus.
This style of wooden table for the study is considered suitable for the student if the following attributes are present:
The Appropriate Size
When saving space is of utmost importance in a limited study environment, a linear-shaped small study tableis the finest option. If your study space is larger, you might choose a table that has a variety of sizes. Here you should also know about Engineered Wood which is specially used for it.
The Height of the Table
You must consider the height while purchasing a study desk for optimal performance. You can choose an adjustable chair if the table height isn't appropriate. It would also be a good idea to have an adjustable study table for maximum efficiency.
Option for Storage
Invest in a study table with a bookshelf for your child if they enjoy reading. More practical storage alternatives are available, such as desks and bookshelves with various compartments.
Spacious Study Table
Having the adequate capacity for the books and other study materials, a large study table gives students enough space to study. Therefore, invest in a substantial wood study table as they feature a dedicated area for reading and writing. Remember that giving your child a distinct area to study encourages them to focus only on their academics.
Awooden study table for students shouldn't be unpleasant or uninteresting, so keep that in mind while shopping. Get a desk with a chic design and vibrant colors to keep them interested. A comfortable seating area must be provided beneath the chairs to maintain furniture easily; always search for water-resistant materials. In the end, I will say everyone should must have study room furniture for improving their concentration level.
Mobility
Students can enjoy playing, and movable study furniture will encourage this. For example, when rearranging furniture or cleaning your child's room, you may move the small study table around as needed to suit their needs.
Different Kinds of Wooden Study Table for Students
The quality and variety of designs are two important elements that distinguish us as one of the finest locations to get the best wooden study table—a cutting-edge solid wood study table with storage that you won't find in any other furniture store.
Some aspects seen in distinct wooden study table designs include the following:
The Wall-Mounted Wooden Study Table
A wall-mounted wooden table for the study is a chic piece of furniture to choose from when space is at a premium. This contemporary study table may be placed there to clear up every square inch of your living room or bedroom. This is a smart architectural choice that will decorate the wall and make it functional and spacious at the same time.
Wooden Study Table Cum Bookshelf
The first thing that comes to mind is a wardrobe, and the second is a study table with many shelves. This small study table has shelves for all the books and doors open to expose a large desk.
This wooden study table design will enable you to save a great deal of time because whatever you require is saved in the assortment of storage areas available. This style of study table you can try for home office furniture designs.
Study Table With Keyboard Tray
Study desks that incorporate a keyboard tray are beneficial. Without experiencing wrist pain, one may comfortably view the computer monitor and type. It has solid wood study tableswith keyboard trays in traditional patterns.
Wally Wooden Study Table
A cozy charmer for your study sessions! The loft-inspired style of thiswood study table gives the space more height. You can neatly store your periodicals, documents, and crucial notepads on the open shelves.
The Foldable Study Table
A foldingsmall study tableis another good alternative for a limited area. It may readily fill a void in a room when folded, giving the appearance of a closed cabinet. The storage shelves provide ample room for all the necessities to be neatly kept.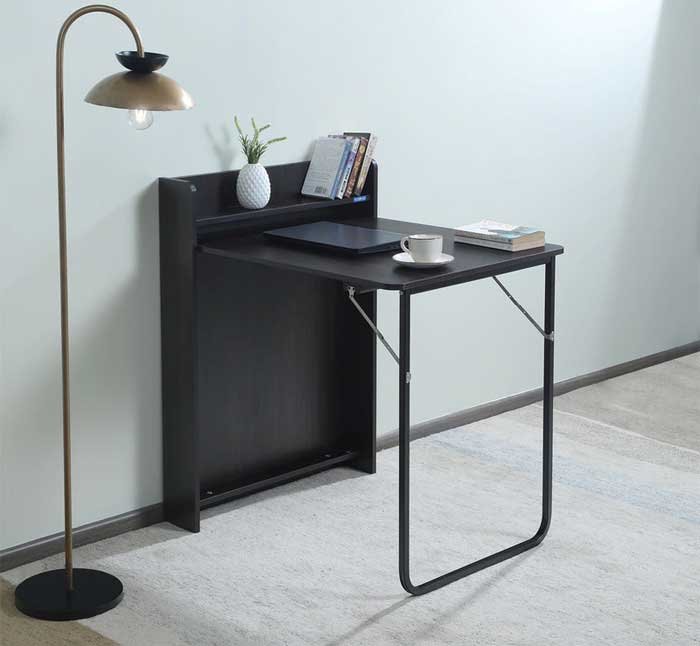 Conclusion
Your children must study effectively if they want to do well in school. Making sure students can concentrate effectively on their academics is equally important. The student's academic growth might suffer if they don't have a proper wooden study table. Therefore, students must access a good wooden study table at home.