Mandir is a Hindi word that means 'temple'. In Hinduism, a mandir is a sacred space where God resides. It is also a place where Hindus go to pray and offer their worship to the Divine.
Some mandirs are simple and small, while others are grand and elaborate. No matter what their size or style, all mandirs have one purpose – to provide a space for Hindus to connect with the divine. Let's look at the key tips and designs for building a mandir at home.
Tips to Design the Perfect Mandir for Your Family Home
The first thing you need to do is decide how big or small you want your mandir to be. The important thing is that it is large enough for you to comfortably fit inside and pray.

Choose a location for it. It can be in any room in your house, but it is usually best to

choose a quiet spot

where you can have some privacy when you pray.

You may want to use granite if it is a special stone in your faith. You may also want to use wood if it is a sacred material in your culture.

Once you have the

basic structure of your mandir

built, you can start decorating it with paint, pictures, or sculptures.
Trending Home Mandir Designs
Wall Mandir Design
A mandir design at home may vary depending on the amount of room and personal taste. The height of the temple will be determined by whether prayers are recited while sitting or standing upright.
Here you can see the latest Wall Pooja Mandir Designs with Images.
This will also influence whether you choose a temple with a wall-mounted pooja unit or one with a floor-resting pooja unit.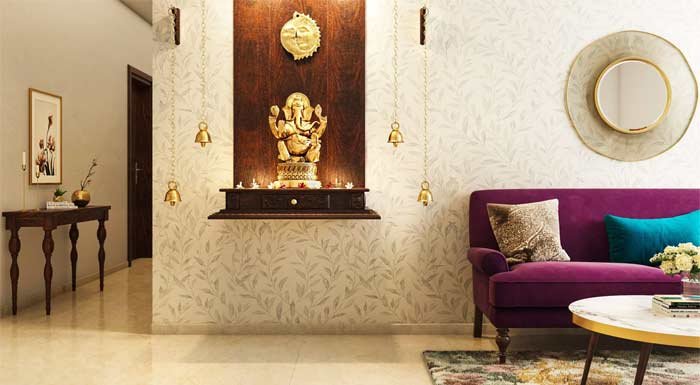 In Indian homes, wall-mounted temples are more popular than floor-resting ones because they take up less space and leave additional floor areas available.
Intricate Marble Mandir Design
There are several marble mandir designs for home pujas, both tiny and huge. One may also have the pooja unit built to one's specifications, as well as the available area. 
Domes, sculptures, columns, and little shelves with small windows to house gods separately in a clean, white mandir at home appear lovely and restful.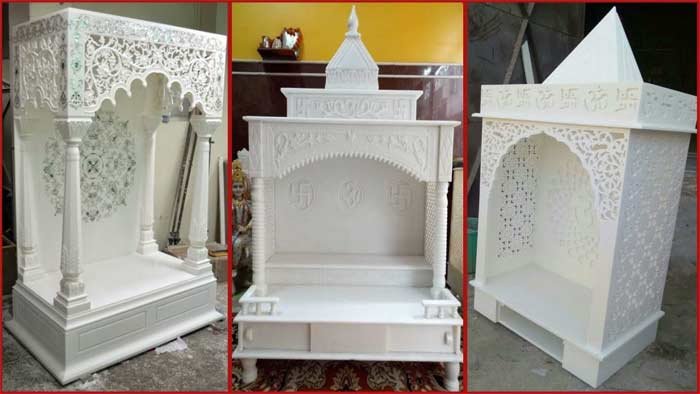 Choose a basic white temple, one with gold inlay work, or a hand-painted pure marble mandir with detailed carvings. A serene atmosphere may be created by adding a false ceiling and backlighting to the temple area.
Home Tulsi Mandir Design
When it comes to designing a home tulsi mandir, there are endless possibilities.
Location is key. The

location of your tulsi mandir

will play a big role in its overall design. If possible, choose a spot that receives plenty of sunlight throughout the day.

If you live in an area with extreme temperatures, be sure to choose materials that can withstand the heat and cold.

Choose a few key elements and stick with them. This will help create a space that feels both peaceful and inviting.

Get creative with your materials.

One of the best ways to add

peace and beauty to your tulsi mandir

is by incorporating nature into its design. Add some potted plants, use natural stone or wood, and consider adding a water feature.
Small Mandir on Shelf
If you have a tiny area to work with, create a mandir or pooja unit that fits in a corner or on a marble or wooden shelf. 
Allow enough area in this home mandir design for gods, photos, tiny decorative diyas, and a bell. Fairy lights and garlands add beauty to the pooja room.
Glass Mandir
You may include glass in your home temple designs. The aesthetic of a glass mandir is lovely and ethereal. It adds a modern vibe to the area and makes it vibrant.
Modern digital printing allows for more design possibilities when decorating with a glass mandir. Laser-etched glasses with floral or leaf patterns on the back panels of the pooja unit can add visual appeal
Plywood Mandir
There are several options for plywood mandirs at home, from basic plywood to double-toned or patterned pooja mandir designs.
The temple may be adorned with interesting textures and become an excellent background for the structure if it is built-in Plywood.
Brown, cream, white, beige, or plain plywood with delicate patterns are all available for elegant modern mandir construction. 
Plywood pooja mandir designs for the home are a great choice since the material is well-known for its durability and strength, so it may endure for years.
Also read – Wooden Pooja Mandir Designs for Home
Jaali Mandir Design
When you're praying, a decorative screen or jaali creates a private mandir area. When properly lit, the ornamental patterns on the jaali provide a lovely ambiance for your home's mandir design. 
Choose designs with sacred symbols and motifs to enhance the attractiveness of the jaali.
Decorative colors and heavenly beings may be added to the temple's jaali panels to enhance the ambiance. 
They allow light in and improve the aesthetics of the space. The framework of a mandir may also be decorated with jaali borders to bring attention to the area.
You may also like to read – Stylish Modern Mandir Designs to Transform Your Puja Room
Tiles Mandir Design
A prayer room at home is a place of serenity, happiness, and comfort. A beautiful backdrop for the idols might be created with light-printed ceramic tiles. Tiles inscribed with the swastika, Diya, Om, or other gods' images are available.
This modern pooja unit's glossy ceramic finish promotes serenity and a feeling of oneness with the Almighty. Tiles in gold or brass tones can be combined with metallic adornments and accouterments in the temple.
Mandir with Backlight Panel
With backlit panels, you can make your mithai mandir at home. To highlight the play of light behind a translucent or lattice panel, position lights behind it. 
The room's atmosphere may be enhanced by the soft yellow light. The glow from the bulbs shining inside the frame gives the idols and pictures a phantom halo.
Conclusion
There are many ways to incorporate a mandir into your home décor. Consider the materials you'll use, the colors, the lighting, and the overall ambiance you want to create.