If you're seeking to create a comfortable and fashionable look in your home, you might want to consider the benefits of interior cabin ideas. Whether you live in a rural area or a metropolitan city, a cabin-style interior can offer warmth to your living space.
We have added a list of ideas that helps in converting your home into a better place.
Key Points You Need To Look At
Using warm and inviting colors in your home can make it feel intimate like a cabin.

If you want to create a natural atmosphere, then add natural things like stones and wood.

Lighting is essential in creating the

proper ambiance in your home

. Choosing warm and comfortable lighting like lanterns and candles can add a touch of luxurious appeal.

Adding decors like handcrafted items, ornaments, and vintage photographs can give your home a sense of character and nostalgia.

Functional and warm furniture, like

oversized armchairs and luxurious

area rugs, can make your home feel comfortable and inviting.
Warm and Inviting Color Palettes
If you want to make your home feel comfortable like a cabin, using the correct colors is a wonderful way to start. Adding Earth colors like brown, yellow, and green are ideal choices for your walls, furniture, and decor. 
If you want to make a special look, painting a wall in a rich chocolate brown can give you that lodge feel instantaneously. Another option is to construct an accent wall with classic wood which gives it a natural earthy appearance.
I you want better color palettes that are related to nature you can use wallpapers of trees, lakes, and caves. Remember, the key is to use pleasant and inviting colors that make you feel comfortable and relaxed. 
By adding organic tones and natural designs, you can create a cabin-inspired space that feels like a balanced space in the center of your home.
Natural Materials 
To give your home a cabin-style interior, it's essential to use natural materials like wood, stone, and leather. One way to add natural materials is by investing in hardwood flooring.
If you're looking for a fast and simple way to add some modern style to your home, consider adding wooden furniture pieces like a coffee table or bookshelf.
These items can add texture and character to your space and can be found in a variety of designs to give your decor betterment. Materials made up of Leather such as leather chairs and sofas can give you home a luxurious look and enhance the quality of your home.
Also, Leather is a strong material that is available from animal skin naturally, So it is durable and you need not worry about the quality of it. 
Here are some top Vastu tips for the office which will give you a fresh start.
Warm Lighting 
When it comes to creating a warm cabin-style interior, lighting is an important factor to consider. The proper lighting can make your space feel pleasant and inviting.
To accomplish a comfortable ambiance, choose lighting fixtures that have lime tones, such as gentle yellows and oranges.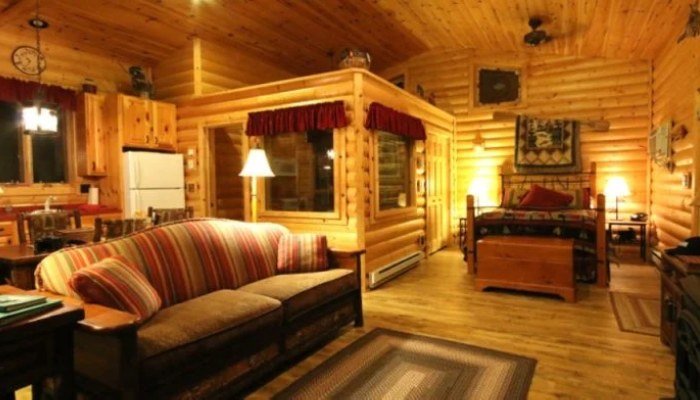 These colors can create a comfortable and relaxing ambiance in your home. Dimmer controls are also a wonderful addition as they enable you to adjust the luminosity of your lights to suit your requirements. 
They are very much suitable in the evening, whenever you spend your quality time with you family these warm lights are the best add-ons. In addition to traditional lighting methods, lanterns and candles can also lend a touch of classy character to your living space. 
Lanterns can be hung from the ceiling or placed on tables to create a pleasant and inviting look. Candles can also be set on tables or in candle holders to add a comfortable and intimate feel to your space.
Remember, lightning is an essential element in creating a cabin-style interior. By choosing warm tones, adding dimmer switches, and incorporating lanterns and candles, you can create a comfortable and inviting ambience in your home. 
Rustic Decor
Decorating your home in a cabin design can be enjoyable and thrilling too. To obtain a comfortable and classy appearance, it's essential to focus on natural and basic elements. This means adding handcrafted items like woven baskets, pottery, and woolen blankets. 
These items bring a warm and welcoming feel to your living space. These elements help create a natural and organic look that is ideal for a warm residence.
Another excellent way to add a touch of nostalgia and tenderness to your living space is to display vintage photos and artwork. These photos and artwork help in starting a conversation by visitors of your home about history and tradition in your home. 
When designing your cabin-style interior, it's essential to keep things plain and natural. Avoid congestion and stick to neutral and naturalistic tones like brown, yellow, and green.
This create a pleasant and inviting ambience that is ideal for reading a good book or spending time with loved ones.
You may also like to Read – Cozy Workspace Plan at Home
Functional and Cozy Furniture
To create a pleasant cabin-style interior, it's important to choose furniture that is both functional and comfortable. Start by investing in seating options that are comfortable and expensive, such as armchairs and sectional sofas.
You need to add natural materials such as wood for creating tables. These materials will give warmth and texture to your living space. 
If you're seeking to add even more comfort to your cabin-style interior, consider using luxurious area rugs and floor cushioning. These are well suitable if you ever plan a party or a simple gathering with your friends.
Remember, when selecting furniture for your cabin-style interior, make sure that it is not only comfortable but also functional. You want to ensure that the furniture suits the purpose of the space while also adding a touch of elegance to the room.
You can also choose from these best Glass films for offices here.
Conclusion
To sum up, using the correct color palette, natural materials, comforting lighting, rustic decor, and functional furniture, you can create a cabin-style interior that's both elegant and comfortable. So, start constructing your own comfortable indoor cabin today!
Consider reading:-