Window Ventilator Grill Design 
If you are looking for a ventilation window for a room, then grill design is one of the most amazing and versatile designs that comes with a stunning visual appeal as well.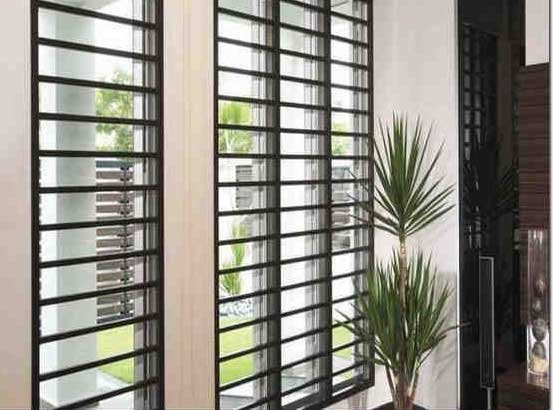 You can choose a window ventilator grill design with ease or try out these amazing designs for window grill ventilation. 
Simple Window Grill Design
Have a look at this amazing window design and welcome the sunshine in your room. This particular design is crafted from Stainless steel material.
One can easily attach this window frame to the walls using screws and later on, it can easily be dismantled anytime. Apart from that, there are other ventilation sources, grill ventilation offers a premium level of safety to the home. 
Modern Window Ventilation For Room
Try out the Modern Window Ventilation design for your room that exhibits the modern charm of conventional designs. You can easily find out simple and elegant window grill design for your home that ensures that you get all the attention that you deserve.
For instance, you can go for a window design that is available with frosted glass. It is one of the simplest yet most elegant designs that ensure you get all the attention that you deserve.  If you are interested in home interiors, then check out our amazing read i.e Top Vaastu tips and the science behind them.
Vintage Ventilation Window Design 
If your entire house theme revolves around vintage elements, or you are fond of these kinds of elements, then go for an antique-style window grill design for ventilation.
You can choose an Iron window ventilation design that is made with wrought iron which is quite sturdy and robust. So, use a combination of arches and vertical bars. Or, you can even add a touch of greenery with stunning plant holders in your room window. 
Corner Window Ventilation Design
You can even utilize the corners of your room by having proper ventilation. Generally, you will find these Window Ventilation designs made with grills and aligned in V shape arrangements. One can either opt for simple vertical bars with mesh patterns or window ventilation design in glass.

In a corner window design, you will get a unique-book shape along with a central vertical bar that is partitioned with two sides. Also, you can use this same pattern as a small window grill design for the other ones in the room. Check out 7 Cool Ways to use False Ceiling Designs in Hall and enhance the interiors of your home. 
Wooden Ventilation Design 
Wooden Windows can instantly enhance the charm and elegance in your space. The best part is you can keep these windows as a long-term option for your home which means you don't have to worry about the material that is used. 
You can opt for Softwood Timber windows that are suitable for contemporary homes. They are one of the most durable designs available in Wooden windows. Apart from that, you can choose oak windows, which is an expensive option that comes with a durable and stable design. One can also check out the 2BHK bedroom Indian-style house plans as well. 
Traditional Wooden Ventilation Design:  Have a look at this amazing grill pattern on the side and open space in between to allow enough air in your room. The design is quite versatile and creates a perfect blend of traditional as well as modern styles.

You can also opt for

Sliding window designs

of this type. But, if you look at this design, it is crafted with a wooden frame along with Aluminum grill that are quite sturdy and long-lasting as well. For your convenience,

Modern Architecture Made Easy: Helpful Hints to Consider.
Latest Wooden Ventilation Window: Let the fresh air and sunlight come from a wide space and install this amazing casement-styled window design in your room. One can also create a resting wooden space just like this and enjoy the view with a nice hot cup of tea.

This modern wooden ventilation window is designed with

solid wood along with glass finishing

. The best part is you can not only use these kinds of windows in the room but also for main gate ventilation designs too. 
Glass Window Ventilation For Room
A glass window can instantly enhance the aesthetics of any space. Whether you are choosing a window for bathroom ventilation or a ventilation window for the Room, one can never go wrong with a Glass window ventilation design. 
Vent Glass Windows Design
:
You can easily install these vent glass windows with ease in your room and eliminate all the excess moisture from the air. As we all know, too much moisture rots the sills and peels the paint. So, it is always better to choose a vent glass window. 
The best part about these window designs is that they hardly require any space. One can easily place them above the level of the wall or at the extreme bottom of the space. This kind of design can instantly enhance the beauty of interiors. So, opt for these glass window designs. 
Conclusion:
There are various kinds of windows designs that you can choose from to allow proper ventilation. But, out of all, the Casement window type is one of the most chosen ones. The main reason for that is they offer awesome ventilation plus, they are easy to clean as well. So, if you want to check out the best ventilation window for your room, here are the images for ventilation windows that you can try out. Also, have a look at 2 bedroom (2BHK) Indian-style house plans.