Grass wall decoration has become very popular recently due to its unique beauty. Not only used in the interior designing of modern houses but its uses are also seen in other areas like playgrounds, offices, studios, and many more.
Such a beautiful grass wall decoration adds the beauty of artificial greenery to the surrounding environment. Artificial walls of green grass décor can even be seen in the Netaji Subash Chandra Bose International Airport of Kolkata and in many other renowned places.
The use of grass design in walls changes the complete atmosphere of a room, making one feel the presence of nature amidst him.
It is easier to get an outstanding appearance in all the desired areas to be decorated using such ideas with fake grass. Artificial grass wall models can be created within a very low budget while making the area appear very stylish and impressive.
Ideas of Home Decor with Artificial Grass Walls
To bring an effect of natural and green ambiance to the place, grass wall décor is an outstanding notion. Use these ideas to give your house a refreshing natural vibe through fake grass wall designs. We have generated various marvelous ideas.
Terrace Wall Decoration with Artificial Grass

 
A terrace can be considered an indoor place. You can plant artificial grass on the walls of the terrace, making it look full of grass and greenery.
This will make an extremely unique decoration to your terrace. For a better effect add some artificial flowers to your grass walls, thereby enhancing the beauty of your terrace area.
Balcony Wall Decoration with Artificial Grass

 
Most people choose to decorate the balcony with flower plants and other saplings. You can create a new idea with decorative artificial grass wall models. 
You may feel like writing the nature poetry of Wordsworth while sitting on your balcony and enjoying yourself in harmony with nature. This is one of the best ways to decorate your home balcony.
Bathroom Wall Decoration with Artificial Grass

 
If you want to add a little style to your bathroom decoration, opt for an innovative artificial grass wall design. After the whole day's work, many of us like to drive away our tiredness by taking a refreshing shower in the bathroom. 
Such a design of fake grass walls creates an artificial atmosphere of nature and greenery, making one feel more relaxed. 
You can also plant some artificial grass on the wall or in the lining of the bathroom mirror. There are different types of wall design ideas available in the market of Foyer areas but artificial grass wall decoration is very cheap and quite unique.
Artificial Grass Wall Decoration Idea for Foyer Area
Welcome your guests by greenery. Make the entry of your house amazing by implementing this fantastic green grass wall idea. Feel a pleasant and calm effect when you step into your house, giving a positive vibe to you.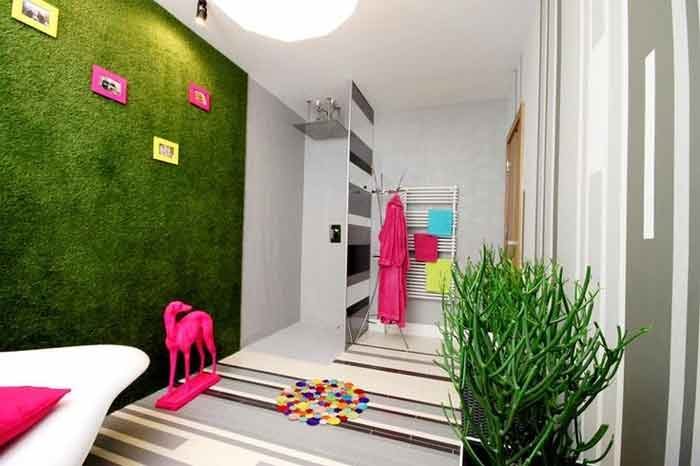 Staircase Decoration with Artificial Grass Wall
Experience a rustic life in the urban world. Create a theme of rural atmosphere and nature in the whole staircase which seems very soothing and makes you feel pleasant every time you use the stairs to go up or down.
You may also like to read – Wall Shelves and Selecting the Perfect One for Your Home
Fake Grass Wall Makeover for Accent Walls
Instead of decorating the old method of using wallpaper, do something creative this time. Artificial grass walls can enhance the beauty in home decoration. Creating a grass wall on one side of your wall, especially the wall surrounding your bed brings life to the room.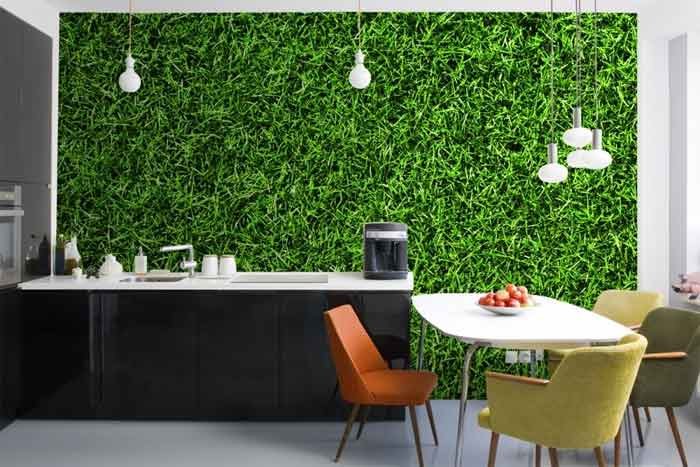 Such decorations can be made on the wall near a sofa or couch. You can paint the other walls of the room with some contrasting light colors.
This also gives an air of peace and calmness, making you relaxed and refreshed. Artificial or fake grass option is perfect for small homes and also Interior design ideas for small Indian homes is quite popular. 
So, try these creative and innovative ideas with grass walls to create a unique home décor. 
Uses of Artificial Grass Walls in Some Other Areas
Sports complexes and playground
The sports complex is among other uses of a wall made of fake grass. For creating the ambiance of sports, the theme of artificial grass walls is widely used in such places. Most of the areas of sports complexes are well-designed with such walls. 
Grass wall decorations are also seen in some restaurants and hotels. Such stylish walls of restaurants attract customers who visit restaurants not only for having some food but to create memories by taking a lot of pictures. Such people generally prefer a beautiful ambiance for clicking pictures.
Merits and Demerits of Artificial Grass Wall Decor
Natural grasses and flowers are quite expensive than fake ones. Moreover, they need to be taken extreme care of. Further, they must be replaced from time to time. 
Artificial grass walls on the other hand do not have such disadvantages. They are less expensive and their maintenance involves low cost, without requiring fertilizer, water, and sunlight.
Artificial grass walls do not seem to have many disadvantages. Despite the fact that they may melt down due to high exposure to sunlight. They are made from plastic and if used for outdoor purposes where the sunlight falls directly on it, can result in its melting.
You can also try other options to decorate your wall with these Wall Stickers for Bedroom, Living Room, Kitchen in Home. 
Buy Grass Wall Decoration Online 
Selecting the right background for your event or home decoration is equally important. You can buy online from a huge collection of artificial grass walls to implement in your place of decoration. They come in many sizes-vertical shapes, square shapes etc.
Four Walls Artificial Boxwood Vertical Wall Grass Mat –


This is a beautiful design which is 16 inches x 24 inches for wall decoration (2.7 sq feet/Tile). Price Rs 1323 after discount.

Cute Wall Designs Artificial Wall Grass For Home Decoration


Comes in 3 pieces (60 cm x 40 cm x 3 cm). Price Rs 1191 after discount.

Golden Cart Artificial Wall Grass For Home Interiors


Available in 7 pieces (60 cm 8×40 cm x 8 cm). Price Rs 6209 after discount.

Cute Wall Designs Artificial Wall Grass For Home Decor


1-piece pink colored grass mat (60cmx 40 cm x 8 cm). Price after discount Rs 901.

Premium Wall Arts Artificial Grass Wall For Home Decoration Uses


Mix plants and flowers with 13 pieces. (60cmx40cmx 8 cm). Price after discount Rs16887.
Festive Creations Artificial Grass Vertical Wall small leaves tiles. The leaves tiles have 10 pieces. (40×60 cm) Price After discount Rs2875.