The Craftsman style is one that stands out when it comes to architectural and interior design trends because of its enduring appeal, attention to detail, and emphasis on handcrafted components.
Craftsman style interiors are characterised by a balanced combination of beauty, utility, and artisanal craftsmanship. 
The Craftsman style emerged in the early 20th century as an alternative to the mass-produced Victorian designs that were popular at the time. 
In this blog, we will take a deep dive into the fascinating world of Craftsman style interiors, studying their history, major traits, and how to infuse your living spaces with the warmth and elegance that Craftsman style interiors provide.
Where Did the Craftsman Style Come From
?
The Craftsman style, sometimes referred to as the Arts and Crafts movement, was developed in the latter half of the 19th century as a reaction to the industrialisation and mass manufacturing that characterised the Victorian era. 
This reaction occurred in the United States. Artisans, architects, and designers worked towards the goal of reestablishing the value of handcrafted items by praising the aesthetic worth of naturally occurring shapes and unprocessed materials. 
This movement, which was spearheaded by notable individuals like as William Morris and Gustav Stickley, was crucial in laying the groundwork for the Craftsman style, which rose to popularity in the United States in the early 20th century.
You should also read: Window curtain
Craftsman-Style Rooms Should Exhibit These Important Qualities
Natural Materials The use of natural materials is one of the characteristics that distinguishes rooms designed in the Craftsman style. 
Oak, maple, or cherry wood is used for the structural beams, panelling, and built-in furnishings, putting the emphasis on the material's natural beauty. Stone, brick, and tile are used as well, which contributes to the organic sense of the space that has been created.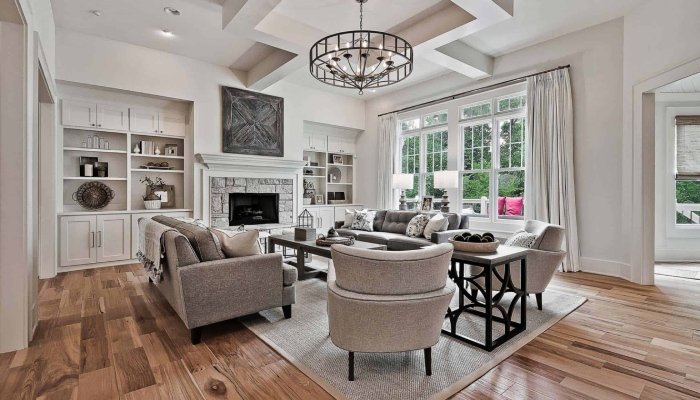 Built-In Furniture: The interiors of homes designed in the Craftsman style frequently include built-in pieces of furniture like bookshelves, benches, and window seats.
Not only do these features conserve space, but they also bring attention to the flawless blending of design and functioning.
Details that Have Been Handmade The Craftsman style is easily recognisable by the delicate features that have been created.
Every detail of the inside was thoughtfully crafted, from the exposed tenon joints and mortise ornamental joinery to the finely constructed stained glass windows and delicate tilework.
May you also like to read: TV cabinet designs for living room
Craftsman homes often have a straightforward, simple design and avoid using an excessive amount of decorative flourishes. Instead, they opt for a simple, linear form that has a feeling of structural integrity and is defined by straight lines, flat surfaces, and a sense of order.
Warm Color Palette Craftsman interiors are known for their use of a colour palette that symbolises the cosy nature of the design. The use of earthy tones, such as dark reds, warm browns, lush greens, and subdued yellows, results in an environment that is warm and inviting.
The natural environment is a common source of inspiration for Craftsman-style interior design, which places a strong emphasis on the outdoors.
There is a widespread use of nature-inspired motifs, such as geometric patterns and idealised versions of flora and animals, in the design of furniture, textiles, and other decorative items.
Craftsman homes typically feature an open floor plan that was created with efficiency in mind. A feeling of cosiness and convenience is created in a home by having open floor plans, well-defined zones, and smooth movement from room to room.
In many homes designed in the Craftsman style, the fireplace serves as a major focal point. These fireplaces typically have tile surrounds and carved mantels. Not only do these fires keep you warm, but they also act as a point of visual reference inside the room.
You may also know: Corner table for living room
Bringing the Craftsman Aesthetic Into Your Own Home
.
Accents of Wood Include features made of wood into your interior design, such as exposed wooden beams, hardwood flooring, and furniture built in from wood. Use wood stains that are deep and rich in colour since they bring out the natural beauty of the material.
Built-In Storage: Integrate built-in storage options such as bookshelves, window seats with concealed compartments, and cabinets with leaded glass doors into the design of your home. These aspects contribute to the whole's practicality and visual appeal.
Stained Glass: If you want to incorporate stained glass, think about putting in windows or panels with designs that are inspired by nature. They may be utilised to section off areas as well as provide a splash of colour and artistic flair to the inside of your home.
Lighting that Serves a Purpose Go for light fittings that are in keeping with the Craftsman style, such as pendant lights with mica or stained glass shades. These fixtures not only give illumination but also add to the atmosphere of the room as a whole.
Furniture of the Arts and Crafts Style: Invest in pieces of furniture in the Arts and Crafts style, which are distinguishable by their straightforward, clean lines and handcrafted accents.
Here you can consider: Pooja shelf design
Excellent additions include seating in the Mission style, seating in the Morris style, and tables in the Stickley style.
Rugs and Textiles: Start with rugs and textiles that have natural tones and straightforward designs. Beautiful harmony may be achieved between the Craftsman approach and carpets in the Persian style, particularly those with geometric patterns.
Color Scheme Inspired by Nature Paint your walls in warm, earthy tones such as terracotta, sage green, or subdued gold. These hues conjure up images of a warm and welcoming ambiance, which is a defining characteristic of Craftsman interiors.
Details of Decoration To imbue your area with the warmth and allure of the Craftsman style, you should use details of decoration such as copper highlights, hand-hammered metal fasteners, and carved wooden panels.
Conclusion
Homeowners and interior designers are still enamoured with the timeless beauty and attention to artisanal craftsmanship that characterise spaces designed in the Craftsman style. 
These interiors, which have their origins in a movement that aimed to promote the aesthetic value of handcrafted objects, are characterised by a balance between nature, uncomplicated design, and practical application. 
You can transform your living spaces into havens of Craftsman-inspired beauty by incorporating natural materials, handcrafted details, and a warm colour palette.
This will ensure that every nook and cranny of your home reflects the grace and charm that are characteristic of this remarkable design style.
Consider reading: