Creating a dedicated space for spiritual practices is a significant aspect of many cultures and religions. Among the various elements that contribute to a serene and tranquil ambiance, a pooja shelf holds a special place.
One of the most essential elements of a pooja shelf is the presence of idols. These representations of gods and goddesses hold deep spiritual significance and act as intermediary between the worshiper and the divine. Placing beautifully crafted idols on the shelf enhances the aesthetic appeal and invites a sense of peace.
A pooja shelf often includes various sacred items and accessories. These can range from incense holders, lamps, and bells to holy books, prayer beads, and sacred symbols. Each item holds its own symbolic importance and adds to the overall ambiance of the space.
In this blog, we will explore the ideas of how to craft a shelf from a variety of materials such as wood, marble, metal, or even a combination of these. Intricate carvings, delicate engravings, and ornate designs contribute to the visual appeal of the shelf.
You may like to read about- Place for Pooja Room
Modern Ideas for Pooja Shelf
Pooja Rack with Multiple Shelves
A pooja rack with many shelves is a versatile and practical option for organizing and displaying a bundle of items in a single prayer room. With various designs available you can add functionality as well as aesthetic appeal to your pooja room.
Multi-tiered shelves: Opt for a rack with three or more shelves that allow you to arrange different sets of items in an organized manner. You can place the main idols on the top shelf while other idols on the lower shelf; in addition with drawers you can keep pooja items in it. Choose a design that compliments your decor either its traditional wood or metal one.
Floating shelves: It is a better choice for those who love minimalistic and modern touch. These shelves can be wall mounted, allowing you an ample space to display your idols. They can be customized according to your size and patterns either symmetrically or asymmetrically.
Glass shelves: If you want to showcase your pooja idols in a sophisticated manner then you can opt for a pooja room with glass shelves. It will create a contemporary and airy look, allowing more space by creating an illusion. You can also incorporate LED lights to give it a more aesthetic appeal.
Closed Cabinet Shelf
If you don't like the concept of open pooja shelves as dust can attract very easily then you can incorporate doors to your pooja room. It will not only add aesthetic appeal but also serves a functional purpose by providing privacy and protection to idols.
Carved Wooden doors: Opt for rich dark wood tones like teawood or rosewood and these doors can feature engraved religious symbols or mythological scenes. The doors can be designed according to your preference as a single door or a double door.
Glass Panel Doors: Consider a pooja shelf with sleek glass panel doors. The transparent glass will allow a glimpse of beautiful idols, not only it protects from dust but also provides natural light to idols.
Mirror Doors: Mirrors are a sign of positivity and reflect a sense of spaciousness in one's mind and thoughts. The mirror bounce back the natural light and gives a more vibrant touch to the beautifully aesthetic pooja room.
Sliding barn doors: For a rustic vibe, consider a pooja room with sliding barn doors that is typically made of wood and promotes a cozy and welcoming vibe. For adding a natural finish to it, you can paint it with neutral colors that compliments with your decor.
Marble Pooja Shelf
A marble pooja shelf design will create a timeless beauty and ambience in your own world. Marble is known for its durability and luxurious appeal.
Classic Marble Shelf: Opt for a standalone marble shelf with clean minimalist lines. Choose from different marble varieties and add a color palette to it of your choice. To enhance visual appeal you can add small accents like gold or silver trimmings, engraved religious symbols or suitable marble carvings.
Marble Backdrop with Shelf: Install a large marble slab as backdrop featuring different intricate patterns. Place a smaller marble shelf in front of your backdrop to display idols beautifully.
Marble Archway shelf: For a majestic look, consider a marble arched surface that frames the pooja room. The archway can be carved with religious motifs, floral patterns, or delicate filigree work. Inside the archway, place a marble shelf to display deities, lamps, and other devotional items.
Read more- Vastu things you should know about Pooja Room
Nature- Inspired Bliss
Bring the serenity of nature into your pooja space with a design inspired by the elements. Incorporate natural materials like bamboo, stone, or terracotta into the shelf's construction.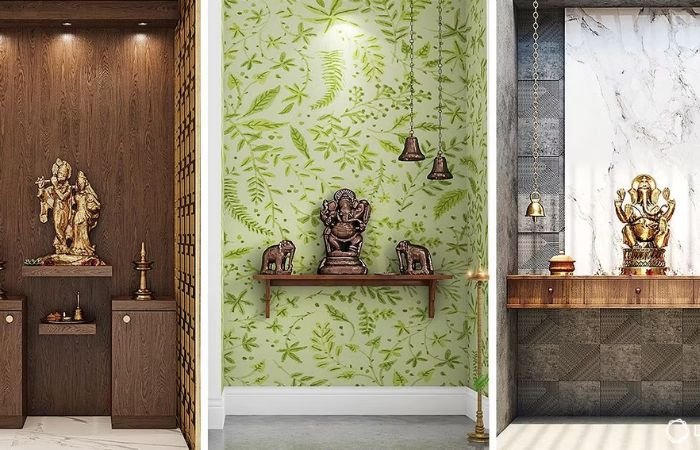 Create a mini indoor garden by placing small potted plants for bonsai trees alongside the idols. Decorate the shelf with seashells, pebbles, or natural crystals for an earthy touch. Consider adding a cascading water feature or a miniature Zen garden nearby to promote a sense of calm and tranquility.
Pooja Room Shelf with Mini Bells
Mini bells in a pooja room will give a tinkling effect that is believed to promote positive vibrations in the house. It holds a spiritual significance from ancient times. Create an enchanting display by hanging a garland of mini bells.
Select bells in a size and design that resonates with you, such as brass or silver bells with intricate patterns. Attach them to a string or thread and drape them across the shelf's edges.
The tinkling sound produced by the bells give a delightful auditory feel to ears while praying. It also signifies the presence of the divine as the sound of bells invite the gods and goddesses.
CONCLUSION
A pooja shelf is more than just a piece of furniture. It represents a sacred space where spirituality, devotion, and peace converge. By carefully curating the shelf with meaningful elements and maintaining it add a divine touch.
Designing a pooja shelf allows you to create a sacred space that aligns with your aesthetic preferences and spiritual beliefs. Whether you prefer a traditional, minimalist, contemporary, wall-mounted, or nature-inspired design, the key is to curate a space that evokes a sense of devotion and inner peace.
Embrace these design ideas to craft a visually captivating and spiritually uplifting pooja shelf that becomes a sanctuary for your spiritual practice.
Consider reading- Color your pooja room as per vastu