The goal of safari-inspired interior design is to give your house a sense of adventure and exoticism. A safari theme is a terrific choice whether you're an experienced traveller or just searching for a way to liven up your home decor. 
In this article, we'll look at some suggestions for furnishing your house with a safari theme, including anything from furniture to fabrics.
Factors to Include in Safari Interior Decoration
Include these important factor to make a perfect safari inspired interior decoration. 
Select earthy, natural hues
Consider earthy, natural hues that mimic the shades of the African savannah when designing with a safari theme. Great choices include subdued yellows and oranges, as well as browns, greens, and tans. 
Think about giving your walls a warm beige or light brown tone, then adding pops of colour with throw cushions or a vibrantly coloured rug.
Utilise natural textures
Natural textures may enhance the safari motif in addition to earth tones. Think about including wooden accents, animal skins, or weaved baskets in your décor. Furniture made of wicker or rattan may also lend a hint of rustic appeal.
Here you can apply different types of wallpaper coverings into your house.
Animal themes and prints
There are endless ways to incorporate animal patterns into your house, which are a mainstay of safari décor. 
A leopard-print rug or a throw cushion with zebra stripes may add visual appeal to your room, and wall art with exotic animals can make a strong statement.
Don't overlook the small nuances
Last but not least, don't forget to include a few modest, unique details that showcase your passion for exploration and the great outdoors. 
A collection of old postcards or other mementos from your travels may give your area some personality, and scented candles or diffusers can help make it seem cosy and welcoming.
Décor and artwork
Artwork and accessories with a safari theme may truly tie your interior design together. Look for artwork with depictions of wildlife, natural settings, or flora. 
To add to the sense of adventure, you may also include safari-themed accessories like caps, binoculars, and even a globe.
Include Plants
Plants are a great way to add a touch of nature to any home design, and they go especially well with a safari-themed space. 
Include plants in your living area to offer a touch of greenery and life, such as palms, ferns, or succulents.
Follow the list of indoor plants here to give a perfect safari look to your house.
Lighting Options
The mood and ambience of a space may be significantly altered by the use of the proper lighting. 
Consider employing warm, ambient lighting that resembles the glow of a campfire for a safari-themed room. You may also use floor or table lights made of organic materials like bamboo or wood.
Establishing a Focal Point
A safari-themed decor is no different from other interior designs in need of a focus point. A huge piece of furniture, a striking piece of art, or even a textured accent wall may serve as a focal point.
Different styles on Safari Decorations For Bathroom
There are many different types from which to pick if you like the safari theme and want to use it in your bathroom décor.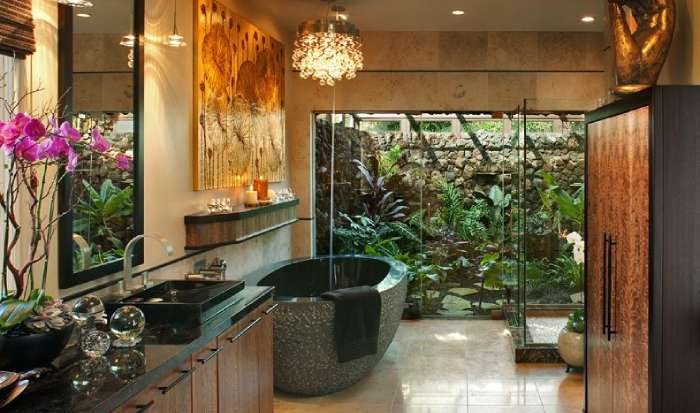 The following are some suggestions for safari bathroom décor, ranging from the organic and rustic to the beautiful and contemporary:
Authentic Safari Style
Think earthy tones, natural textures, and organic materials when designing with a safari theme. 
You may, for instance, use a wooden toothbrush holder, a stone soap dispenser, or a wastebasket made of woven bamboo or rattan. 
Use earthy colours for your towels and shower curtain, such as brown, beige, and green, and incorporate natural features like plants or flowers.
Safari-Rural Style
Consider adding old or damaged things into your bathroom décor for a more rustic safari look. You might hang a rustic metal sign with a safari-themed phrase or use an old wooden ladder as a towel rack. 
To complete the theme, add some towels with animal prints or a shower curtain with zebra stripes.
Safari Tribal Style
Use strong patterns and vibrant colours if you like a more tribal style. You may add some vibrantly coloured woven baskets for storage or use a shower curtain with a tribal motif. 
To complete the appearance, seek for items with tribal motifs like soap dishes, toothbrush holders, or tissue boxes.
Stylish Safari Design
Consider utilising black and white as your primary colour palette if you want a more opulent and refined appearance. 
Keep other items basic and streamlined, but add animal print towels or a zebra-striped shower curtain. To dress up the design, seek for sophisticated accents like crystal soap dispensers or silver furniture.
Here you should know about these essential furniture pieces that add charm to your home.
Modern-day Safari
Finally, think about adding strong geometric designs and metallic elements for a more contemporary appearance. 
Choose accessories that are simple and streamlined, such as a stainless steel trash can or a contemporary black-and-white soap dispenser. 
Maintain a clean, straightforward aesthetic while adding highlights like animal prints or artwork with a safari theme.
Finally, there are many various designs available for bathroom safari décor. There are many ways to incorporate safari themes into your bathroom design, regardless of your preference for a natural, rustic, tribal, elegant, or modern appearance. 
You may design a one-of-a-kind, chic bathroom with a safari theme by picking the appropriate accents, hues, and textures.
If you love the idea of a safari adventure and want to bring some of that adventurous spirit into your bedroom, then a safari-themed bedroom is just what you need. 
A safari-themed bedroom can help you create a relaxing and comfortable retreat that makes you feel like you are sleeping in the middle of a lush African wilderness. 
Safari-themed bedroom ideas 
To create a safari-themed bedroom, the first thing to consider is the colour palette. 
Earthy and natural colours like beige, khaki, brown, and green are ideal choices. You can add a pop of colour with accents of orange, red, or gold.
A safari-themed bedroom should have bedding that reflects the natural environment of the African wilderness. 
Choose bedding with animal prints like zebra, leopard, or cheetah to create a focal point. You can also throw pillows and blankets with safari-inspired patterns like palm trees, giraffes, or elephants.
Wall Decor
The walls of a safari-themed bedroom should reflect the adventurous spirit of the wilderness. 
You can use murals, wall hangings, or framed art to create a safari theme. Animal prints and black and white photography of wildlife are excellent choices.
For a safari-themed bedroom, choose furniture that has a natural look and feel. 
Wooden furniture like bed frames, nightstands, and dressers are ideal choices. You can also add a rattan or wicker chair to create a cosy reading nook.
Accessories are the finishing touches that bring the entire look together. You can add items like animal figurines, safari hats, binoculars, or a compass to complete the safari theme. 
Plants like palm trees, ferns, or succulents can also add a touch of natural beauty.
Lighting is an essential element of a safari-themed bedroom. You can choose natural or warm light to create a cosy and relaxing atmosphere. 
Floor lamps, table lamps, and wall sconces can add a touch of elegance to the room.
In conclusion, a safari-themed bedroom can transport you to the heart of Africa, and with these ideas, you can create a room that is stylish, comfortable, and reflects your adventurous spirit.
Frequently Asked Questions
Q1 – What are some tips for creating a cohesive safari-inspired look throughout your home?
Answer – To create a cohesive safari-inspired look throughout your home, start by selecting a colour scheme and sticking to it. Use earthy tones and animal prints in your decor and furniture choices.
Adding natural textures like wood, leather, and woven materials can enhance the safari theme. Incorporating greenery and plants can also add to the ambience. Consider adding safari-themed artwork and accessories to complete the look.
Lastly, it's important to balance the safari theme with other design elements in your home to create a cohesive and balanced overall aesthetic.
Q2 – How can you balance a bold safari theme with other design elements in your home?
Answer – To balance a bold safari theme with other design elements in your home, start by selecting a focal point for the room. Then, add other design elements such as artwork or accessories that complement the focal point without overwhelming it.
Incorporating neutral colours and natural textures like wood or woven materials can help create balance. Consider using pops of colour to add interest to space. Finally, be sure to keep the overall style of the room in mind and make design choices that complement the existing style rather than clash with it.
Q3 – How can you use plants and greenery to enhance your safari theme?
Answer – Consider adding plants that are native to Africa, such as succulents or tall grass. Place potted plants in decorative woven baskets or ceramic pots to enhance the natural feel of the room.
Use plants to add texture and colour to your decor and consider incorporating larger plants like palm trees to create a jungle atmosphere.
You can also use greenery in your table settings or as part of your centrepiece to tie the safari theme together. Be sure to choose plants that are appropriate for light and humidity in your home.