Curtains are without a doubt a thing of beauty in your rooms.The colour,the appearance of your curtains holds the capacity of giving your room a perfect look.Curtains are really important and do give an elegant touch to your rooms.
The magnificent experience of opening your curtains at the time of sunrise and the glorious experience of closing them at the time of sunset should not be treated lightly.
It should be as blissful as you want.
We know that we like to change curtains according to our moods and needs and we like to bring various changes in their appearances timely.Today let us all dive into the variations of curtains and into the different holders that hold them!
Curtain Holders-Why Are They needed?
Curtain holders or curtain rods or sometimes called curtain pole.Curtain holders are used for holding curtains in a firm manner.
Curtain holders give–
A rigid support to curtains.

Curtain holders are used to suspend curtains.

Various curtain holders are used for decorative purposes.

To give it perfect sliding.

Curtain holders are used to give firm support to the curtains.
You should also read: How to choose curtains for living room
A brief talk on curtain rods and their types.
Curtain rods are of various shapes and are of various designs.
Few of the basic designs or shapes of curtain rods are as follows-
Universal type curtain rod

-Curtain rod of this type is of pointed nib.A sharp end point is present in this type of curtain rod.

Umbrella type of curtain rod

-Curtain rod of this

type is firm in appearance

and has smooth surface.

Square cut curtain rod

-The square type curtain rod consists of various little squares that combine all together.

Mascot type of curtain rod

-This type of

mascot type of curtain rod

is also bounded and plain in appearance .It is also firm and it does not have sharp endings.

Kanda type of curtain rod

-This type of curtain rod is the most used and is circular in shape from the end.
While choosing curtain rods one can select on the basis of one's need that what type of curtain rod will suit their curtains best.
Curtain holders,rods- the features to be considered while choosing.
There are various points that one needs to consider while choosing the best curtain holder for their curtains.
The points or the salient features of best curtain holders that need to be kept in mind while buying-
Material is the foremost thing that needs to be taken care of.Various materials such as stainless steel,polyvinyl chloride,expasy,etc.These

materials have great durability

and can give firm support.

Rods that are extendable are of great use.

The designs of the rods or holders vary according to the needs of various people.

Price is another thing that needs to be kept in mind.
Also like to read: Window curtain
Best Curtain Holders
In this section we will discuss the various options that one can consider while choosing the best curtain holders for their curtains.
Boho macrame curtain holder

-This curtain holder gives an elegant and modest look.After tying they give

a perfect aesthetic look

to the curtains.
They are aesthetic in designs.
Wings curtain tieback

-The wrapped appearance of these curtain holders gives a perfect and cool look while being wrapped around your curtains.Various colours of these curtain holders

provide a great range

of options.

Flower shaped boho tie back

-This curtain holder with their flowery look gives a naturalistic and pleasant setting to your curtains.It gives a joyful experience of staring at them.

Octopus designed curtain hooks

-This octopus type curtain hooks looks great and are of moderate size.

Leather rod curtain holder

-With leather

touch and its elegant look

this leather rod curtain holder looks great and classy.

Handmade braided curtain holders

-With braided designs they fulfil your needs of realistic curtain holders and will look eye catchy.
You may also like to read: Luxury modern curtain designs
Curtain Tiebacks and Drapes
We talked about certain holders and about the various curtain holders designs.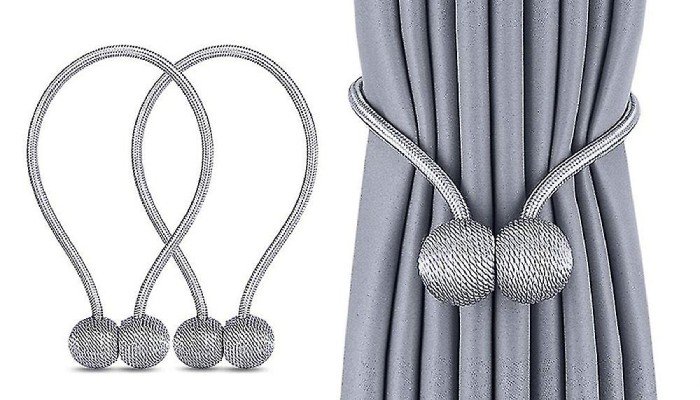 Now let us talk about curtain drapes and tiebacks.
Why are they used?
To let the curtain hang freely.

To open them or close accordingly.

To

give it a flexible look

.

Wrap around the curtains.

To give a natural look to your curtains with good material.
Benefits of using tiebacks-
Using them can reduce the wear and tear of curtains and can help them stay at pace.

Are easily adjustable.

They make it easier to make curtains clean.

They add a pinch of aesthetic to curtains.
How to use the perfect curtain holders for your curtains?
It is not that difficult to choose the best suitable curtain holders for your curtains.
You can easily choose curtain holders on the basis of your needs and demands.
Also read about: Curtain designs for living room
Choose curtain holders which-
Justify your taste.Whether you go with traditional style curtain holders or you opt for curtain tiebacks.See what would you like to have

your curtain wrapped in

.

According to decor.If you are someone who likes living aesthetically then go with some curtain holders who fulfil this need of yours and justify the aesthetic nature of your room.

Material of curtain holders needs to be taken care of as it can detect the durability.

Keep

yourself updated with trends

so that you can add options to your list and can choose wisely.
Why Are Curtains So Important?
Curtains are really important as they are something that serve your need of controlling the right amount of light entering your room.It is also proven that curtains help maintain the temperature of your room and can literally transform interiors of your room. 
White plastic backing is suggested to reflect light and to keep the temperature normal of the room.Light coloured drapes are moreover recommended for better results.
So what are you waiting for?
Switch to some better interior and start it with your curtains.
Curtain holders will additionally aid the business of your room.
We all like to live and  we all deserve an aesthetic and pleasant life-so let's start making these small changes from now on!
Consider reading: