Are you searching to find a way to give your backyard a little bit more peace and quiet? If so, why not consider including Japanese garden concepts in the backyard area? Japanese gardens are widely recognized for their peaceful environment, implementation of ecological elements, and simplistic architecture. 
DecorChamp will provide you with some inspiration and ideas on how to create a Japanese garden in your backyard.
Unique Japanese Garden Ideas for Backyard
To establish an atmosphere of tranquility, bring together natural features like stones, gemstones, water, and plants.

Use gravel or sand to define different areas of your garden and create a sense of flow.

To pull the eye while providing order, generate a focal point out of a massive rock, water functionality, or artwork.

Add lanterns and statues for interest and focal points.

Embracing minimalism by using simple furniture and negative space.

Consider adding a tea house or small bridge to create a peaceful and reflective space.

Create a moss garden to add a sense of age and history to your space.

Transform your backyard into a

Japanese oasis

and enjoy the beauty and serenity it brings.
Incorporate Natural Elements
To make your garden look more natural and peaceful, you can use elements like stones, water, and plants. Japanese garden ideas include these elements to create a calming atmosphere.
To outline the location and to provide it with an overall feeling of privacy, exploit large rocks and stones. 
Adding a water feature like a pond, waterfall, or stream can add a soothing sound to your garden. You can also use native plants and trees that are common in Japan, such as Japanese maple or cherry blossoms.
These plants are beautiful and have symbolic meanings that can add to the tranquility of your garden. 
Use Gravel or Sand
Using gravel or sand in your garden can be helpful in creating pathways and defining separate areas. Japanese gardens often use gravel or sand to represent water, and it creates a feeling of flow and movement.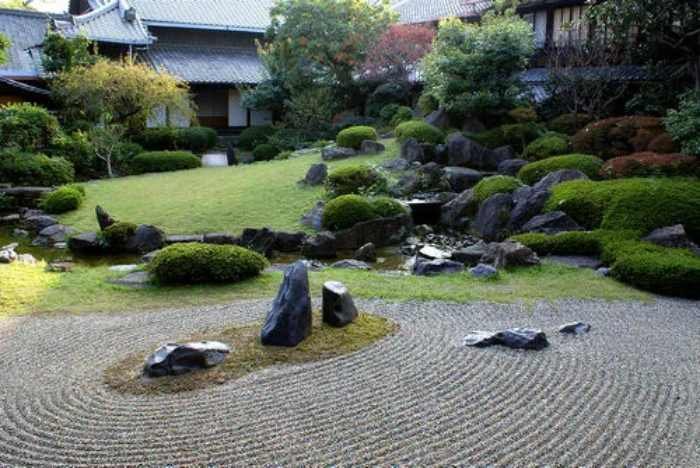 By raking patterns into the gravel or sand, you can create a Zen Garden. This can be a peaceful and mindful exercise that promotes mental peace. These useful ideas and tips for the garden which you can add to make it more beautiful. 
Create a Focal Point
To make your garden look more harmonious and balanced, you can create a focal point. This could be a big rock or boulder, a water feature, or even a sculpture. 
A focal point attracts attention and helps create a sense of order in your garden. It's crucial for your property to have a point of interest since it contributes to your outdoor space a sense of harmony and balance. Also you can use these best outdoor plants for terrace gardens and you can go also with flowery plants here. 
Use Lanterns and Statues
To add interest and focal points to your garden, you can use lanterns and statues. Japanese gardens frequently use these elements to enhance the atmosphere of the space. 
The garden can be decorated at night using lanterns to create an enjoyable outdoors. Statues can add a sense of tranquility and peacefulness to the garden. 
Using lanterns and statues in your garden is an excellent way to add visual appeal and create a more serene and calming atmosphere. These modern pot planting ideas can be used here. It will help you to decorate your garden. 
Embrace Minimalism
With the goal to preserve harmony and balance in your Japanese garden, taking things must be recognized.
Using negative space, or empty areas, is crucial to achieving this style. You can use minimalistic furniture, such as bamboo benches or wooden chairs, to create a peaceful seating area.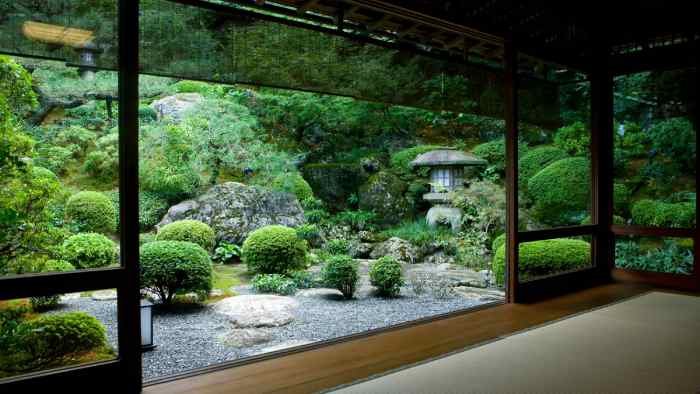 This type of furniture complements the natural elements of the garden without detracting from them. Embracing minimalism in your Japanese garden is a great way to simplify the space, create a sense of tranquility, and highlight the natural beauty of the plants and trees. 
Here you don't forget to use the best types of woods in furniture. 
Create a Tea House
If there is enough place in the garden, adding a tea house can be a great idea. In Japan, tea houses are used for tea ceremonies, but they can also be a peaceful spot for relaxation and reflection.
You can create a traditional Japanese tea house with sliding doors, tatami mats, and a simple but elegant design. 
A tea house can be a place to escape from the noise and stress of everyday life, where you can sit down, have a cup of tea, and relax with the natural beauty of your garden. It's a great way to add an authentic Japanese touch to your garden and create a serene atmosphere.
Add a Bridge
Adding a bridge to your garden can create a sense of connection between different areas of your garden. In Japanese gardens, bridges are often used to connect different parts of the garden and to create a sense of harmony with the natural surroundings. 
You can use different materials for your bridge, such as wood or stone, depending on the look you want to achieve. Another outstanding performance for utilizing organic materials including waterfalls and rocks in the landscaping design is by building a bridge.
Create a Moss Garden
A moss garden is a special type of garden found in Japan. It's different from regular gardens because instead of grass or flowers, the ground is covered in soft, green moss. 
It's a type of plant that doesn't have roots, so it can grow on rocks, walls, and even the ground.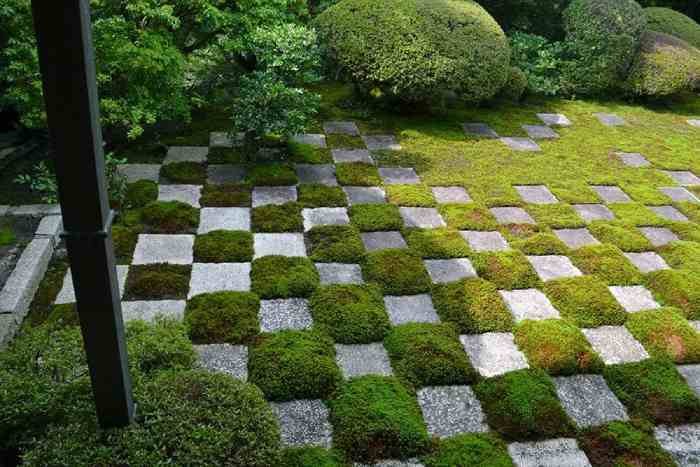 In Japanese gardens, moss is used to create a sense of age and history. Because it requires neither grooming nor watering, it additionally serves as a relatively low-maintenance option. 
Finding an area of shade and establishing moss are the primary steps in creating a moss garden. Over time, the moss will grow and create a soft, lush ground cover.
You may also like to read – Best Balcony Garden Designs of the Year
Conclusion
In conclusion, creating a Japanese garden in your backyard can be a great way to escape from the hustle and bustle of daily life and find peace and serenity. You may create your room with a sense of tranquility by using natural components like plants, water, and stones. 
Embracing minimalism and using simple furniture can also help create a peaceful environment. A central point that as a massive rock or statue can draw the human eye and add control to the landscape. 
Think of having a tea house, a bridge, a moss plant flowers, or both for additional attraction and luxurious, lightly textured cover. Create a Japanese garden in your backyard to benefit from the relaxing effects it may have.