A floor plan is one of the most useful planning tools that interior designers and real estate agents use when they want to sell or design a new property or home. Floor plans can guide how to envision a space and give a blueprint of how it will look when the construction is finished. When you are about to give your property a floor plan, it is essential to note when you want a working or a living space. 
Before knowing how to create a floor plan or how to plan out your home, you need to know what a floor plan means. So a floor plan is a 2D graph drawing that diagrammatically shows what or how a home will look like from an aerial view. The floor plan reveals the empty space where people will walk. Since you know well what a floor plan is, it is time you know how to create a floor plan. 
How to create a floor plan: Simple Steps to Plan out 
You can draw a 2D floor plan by hand or use 3D  software to pan out the same. No matter whether you do it manually or otherwise, these tips on how to create a floor plan will assist you in giving perfection to your work. 

Choose the area of the floor:

Firstly, you need to know the type of floor plan you need as there are many types of floor plans. It can be different for a single floor or for the entire building. 
Dimensions are a restraint:

If you want to know

how to plan out your home,

you need to take accurate dimensions of the floor. If you are building a food plan that does not exist, know at least the dimensions of the square feet of the entire space. Adding other features can wait. 
Use the pencil to draw initially:

If you are making a floor plan manually, keep it erasable.  
Here is a list of the most popular floor plan systems
If you are a home floor planner, an interior designer, or a remodeler, home food software is the best way t communicate your vision to homebuyers. This software can help you fully understand your project. When you want to become the best home floor planner, you need to look at these factors in the house planner app or software you are using. 
You may like to Read – 15 by 40 House Plan. Single / Multi Floor 15×40 Sq.Ft. House Plan
House planner app
Always make sure the measurements are customizable and surface areas flexible. 

You should always take help from the

existing home floor plans

. 

Always focus on simple floor design.

Print floor plans to scale annotations.

You should have a

customizable slab

and ceiling heights.
The most popular floor plan systems in 2022
As a home floor planner, you need to harbor hands on the best house planner apps and software. Presenting you with some house plan systems along with their basic information. 
Cedreo System
Simultaneous 2D and 3D renderings

Scalable plans

Unlimited projects

650+ customizable products

Video tutorials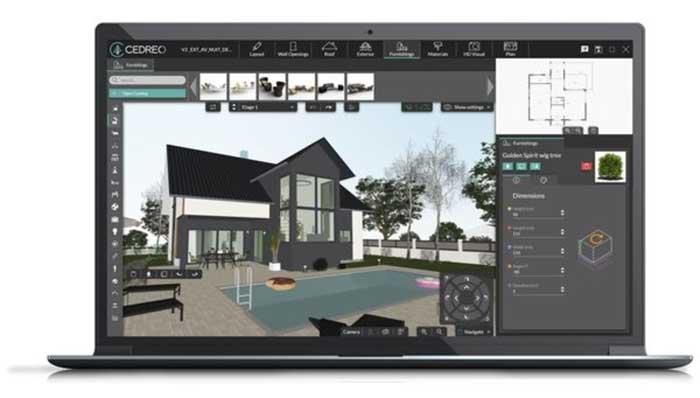 Sweet Home 3D System
Video tutorials available

User forum

Blueprint 

Simultaneous 2D and 3D renderings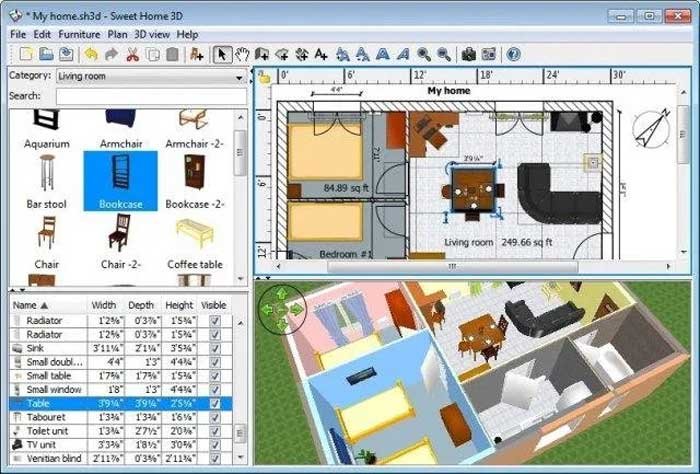 SmartDraw System
Multiple room templates are available

Symbol library feature

Visio compatibility available

$9.95/ month for a single user

$5.95/ month for 5+ users



Planner 5D System
Supports both android and iOS

Room templates available 

5,000+ item catalogs

Free house planner app



SketchUp Pro
R mobile view

Pre-built 3D models available 

Lug in expansion

$119 to $1,199 annually 
Also Read – Marble Flooring Design with their Types & Benefits
How Much Does it Cost to Get Started with 3D Floor Design?
Is it free to use a floor planner? Well, it all depends on the complexity and quality of the drawing that the floor planner draws. If you want to hire a freelancer rather than an architectural firm, you can expect a lower price. 
However, there are many approaches that you can use to get your 3D floor design made. It all depends on the cost of home planner systems and the cost of home designer apps that you use.
DIY Approach for floor designing
Of course, you need help from home designer apps to achieve perfection, but there is nothing wrong with using the DIY  approach. The cost of home designer apps ranges from $25 to $75 every month.
Professional drafter App
The cost of home designer apps depends on the maker of the app. You need to pay $700 to $3,000 for a single-house plan. On an hourly basis, this rate starts from $80 to $130 per hour. 
Freelancer for Home Designing
A freelancer has no standard rate. Even when 2 freelancers reside in the same area, they might charge differently based on their experience level. They charge for a project an average of $1,750 or $50 to $150 per hour.
Cost of home designer apps
Heavenly- Free, upgrade cost is $79

Homestyler- Free

Room planner by Ikea- Free

Houzz- Free

magicPlan- Free, in-app purchases cost- sketch plan monthly ($9.99), annually ($99.99)
Do you know about – Bathroom Tiles Design Combination for Wall & Floor
Top 5 Tips for Creating Great Floorplans with Free Software Tools
Below are the top 5 tips for home design software that has a goal to remodel or build your home easier for both the homeowner and those who work on changes.
Know the Budget Constraints
Some designers are free, but some designers charge for creating a good floor plan. It is always helpful to know the budget constraints. 
Define your goals appropriately
Some home design tools are better suited for certain projects so always make a note of your goals before choosing the type of software. If you miss out on this, creating a good floor plan is no easy task.
Test the different types of software options
Before narrowing it down to one software, you should always consider trying and exploring a few options. This is an important step and tip in creating a good floor plan. Trying out different tools helps you understand the features of the systems. 
You should know about – The Importance of Western Toilet Seats
A lower learning curve is better
This helps you in creating a good floor plan in a few hours as you draw intuitive plans. It can also help you meet deadlines. 
Go for free trials
It is very useful for creating a good floor plan as it allows you to see what you are signing up for before making an official commitment. You always find a first-hand experience. 
Here is Types of Brick Bond with Uses. English, Flemish, Header, Stretcher Bond
Wrapping it up
In a nutshell, these were some helpful tips and software systems that can help you in selecting the best floorplan. We have also given out the top 5 tips for home design software that can be of essential help while you're finally getting into building your dream house.