It is fantastic to watch your youngster explore the home by himself, but you should be mindful that he/she is more likely to trip and fall now. 
Toddlers may occasionally be rather unruly, so it is best to make their surroundings a little more child-friendly. Several tips for keeping toddlers safe in the restroom will help here.
When your kids learn to walk, you need to take some safety precautions, including staying safe at home, and paying particular attention to the kitchen, bathroom, and toilet because these are the most common places for mishaps.
Safety Gear for Bathrooms That are Safe for Kids
With the assistance of the extension for the faucet, toddlers can easily access the sparkling water.

Sticking stickers to the

floor of the bathroom

will assist you in remaining upright and firmly seated.

To assist in getting off the floor, a portable grab rail can be affixed to the wall of the bathroom.

Installing the toilet seat latch, and a

child safety lock

.

It is a good idea to buy baby floats, rings, and pillows if you have a bathtub.
Things to Avoid:
Some

bathroom fixtures

should be kept out of the reach of children. 

A child can get sick if he/she stays in soapy water for a long time. 

Remove the shower curtain if you have one because it can trap children and cause them to suffocate. 

Vinyl shower curtains

harm your child by releasing toxins into the air.
List Of Top 10 Safety Tips for Toddlers/Kids in Bathrooms
Always make sure that the lock on the toilet door is sturdy and it is out of reach for kids. We suggest securing the latch in a way that prevents children from getting to it. Additionally, check that the faucet and faucet are at the appropriate height.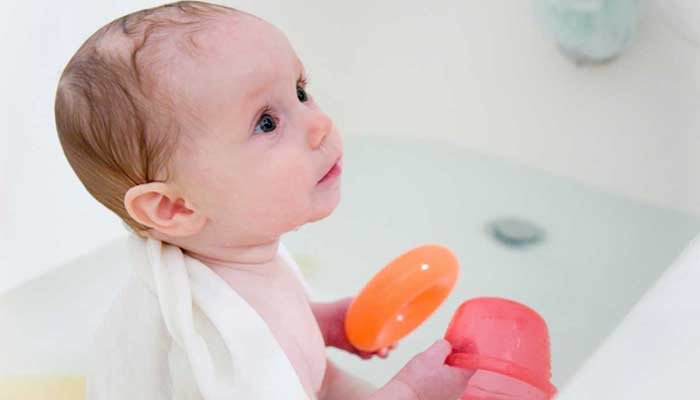 Children are more likely to suffer serious harm from metal faucets and faucets. Therefore, ensure that they are considerably taller than your child. You choose from these bathroom door designs. which are very much used in India for their child's safety. 
Protecting babies with padding
It can protect kids from falling objects because toddlers frequently do so. To prevent accidents, make sure to cover any sharp edges in your bathroom. 
There are a variety of baby-safety materials available to hide the rough, sharp corners in the bathroom.
A thin layer of sponge can be used to cover anything that could hurt your baby, including sharp objects. 
Detergents and chemicals should be kept at a safe distance
Nearly everything they see makes them want to touch it. As a result, detergents and cleaning agents ought to be kept on high shelves in the bathroom.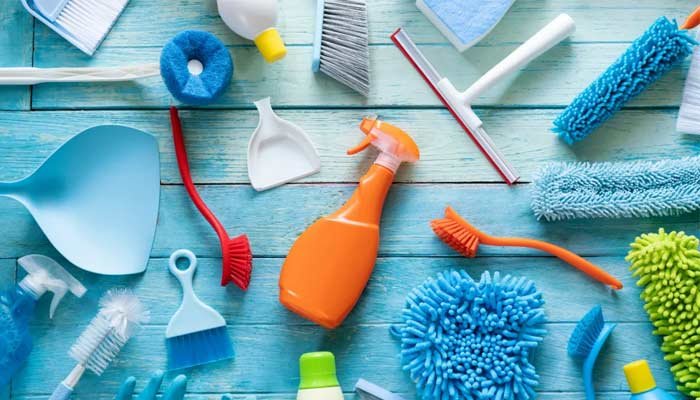 If children touch or ingest cleaning products or other toiletries by accident, they can be very harmful. 
These items should be tightly sealed with lids that are not left open.
Here you can select these bathroom shelf designs which are child-friendly. 
Attach rubber bumpers to sharp counter corners
For more safety, Attach rubber bumpers to the corners of the counter that are sharp in the bathroom. Your child is in a very dangerous situation because he/she is rushing around and falling.
The child could hit his head if the counter's rubber cushioning is attached, but the counter's sharp edges will not hurt you.
Make the trash can baby-proof by installing locks
If you already have a padlock in your bathroom, put one in the trash can. Additionally, if you decide to purchase one, look for bins with locks.
 They run the risk of cutting their hands if they come into contact with disposable razors. Additionally, they have the potential to harm themselves by falling on trashed items.
Make the bathroom safe for babies by installing safety features
The faucet should have an anti-scalding mechanism. This mechanism will shut off the water by itself if the temperature is too high. You can purchase a variety of burn prevention products from the market. 
Here is some beautiful single bed design for kids with price. These beds come with all the kid's safety features. So, use it without any hesitation. 
Keep dangerous and other electronic items out of kids' reach
All electrical appliances, including hair straighteners, curlers, electric shavers, and epilators, should be unplugged and kept out of children's reach.
If you keep it in the bathroom, put it in a special cabinet that will be hard for little kids to open. Also, get used to putting it away right away after using it.
Children can be very hurt if the floors in the bathroom are slippery. A non-slip strip should also be placed around the bathtub because this is a common spot for water to pool. 
Do not leave your child unattended
Even for a brief period and more safety, do not leave him/her alone in the tub. 
You will need to bring the phone or doorbell wrapped in a towel if you are unable to avoid them. Also, after using the bathtub, flush the water out.
Bathroom floors that are wet and slick are a great place to slip and fall.
Ensure that all shower mats have a rubber non-slip backing and place padded rubber mats in the tub and shower. 
Make sure there are no grout lines when replacing bathroom floors. Ceramic tiles or smaller stones should be used.
You may also like to read – How to Decorate a Room for Kids
Important lessons for kids
Even if you have taken some steps, you still need to teach your kids important lessons, like not walking to the bathroom. 

Make sure they are aware that putting their hands in or on the toilet seat is extremely risky due to the presence of germs in the bowl.
Additionally, if water spills and splatters onto the floor, teach your child how to turn off the water supply. 
Conclusion:
When using the toilet, you can reduce your child's risk of electrocution, burns, slips, and lacerations in several ways. Be mindful of child safety in the bathroom and think about making some of the aforementioned adjustments.