There is so much pollution outside in the air that even if we plan to stay at home it won't help. The level of pollution the world has witnessed today is worst of all time and it get aggravated day by day. We cannot clean out the pollution from the whole wide world but we can do our bit. We have been using plants since a long time and in many forms. Using its bark, the leaves, flowers and of course, its fruits. Plants have always been men liberation from toxins. We have listed down the best air purifying indoor plants which you can have in your living room, bedroom or any where as per your choice.
Air Purifying Indoor Plants
It not like to have any plant in your home as all plants are not suitable for your living room or bed room. These are indoor plants but have different nature and effect.  Here is a list of air purifying indoor plants that will help you clean out the air of your house and fill it with fresh breeze.
Aloe Vera
Aloe vera is amongst the most useful plant in the world. Aloe vera's gel is fondly used as an anti-aging and anti-pimple material. What many people don't know is, it also helps in removing formaldehyde that is present in the air. Aloe vera needs less of water and more of sunlight. It is only thing that needs to be kept in mind.
Rubber Plant
Rubber plant is another air-cleaning plant. It could grow tall but it also emits large amount of oxygen in the air and takes out the harmful chemicals from it. Rubber plant will also add-up to your home décor activities. The best part about the rubber plant it requires not so frequent watering.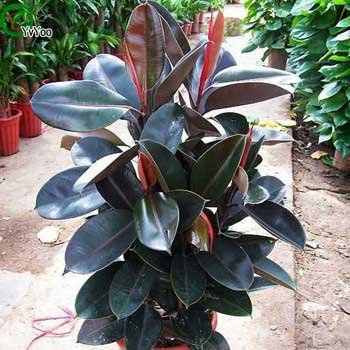 Spider Plant
Don't be scared of the name. Spider plant is, in fact, one useful plant for you. Spider plant is one friendly plant as it grows very easily without much attention. All they are some rich & indirect sunlight, watering every few days and you are good to go. It will pull out the dampen air and give you the pure and rich air.
Areca Palm
It is the most common plant in cities these days. Planted on every corner of the park and around the vicinity, areca palm is best known for its wide stretch and air purifying quality. It also needs rich soil, infrequent water supply and little of sunlight. No extra expenses with areca palm.
Ficus
Ficus is for those who love tall plants in their houses. They can grow upto 10 feet in height. It depends on the size of the pot you place it in. Ficus is a profound air purifier. Likewise the other plants in the list, it also requires little water and indirect sunlight. Use fancy pot for the plants.
Snake Plant
Another plant with an animal name! Snake plant is also a very low maintenance plant with minimal water supply and sunlight. Snake plant is almost impossible to kill as it needs the least amount of water and light. Give it a space in your home and forget it.
Golden Pothos
The big leaves of goldon pothos are striking and do a prodigious job at eliminating for maldehyde and carbon monoxide. Golden Pothos needs to be kept in a rather cool place with indirect sunlight. Golden pothos doesn't require much of water.
Where to Buy:
Air purifying plants can be bought online from trusted stores. Click here to buy these.