An indoor plant stand is an object that one can use to display houseplant moreover, it can elevate the surface on which it has been kept on. Now, choosing a planter of the right size can be creative and fun at the same time. 
But, one needs to consider the dimension and height of indoor plants as different kinds of plants grow to varying heights and widths that can impact the size of the stand you will need. Generally, for a taller plant, we choose a lower plant stand.
Selecting an appropriate indoor pot for the indoor plant is much more important than just choosing a good one. 
All plant pots serve an important function rather than just being a plant-holding container. Using the right plant stand one can easily find a difference between houseplant which is finding it difficult to groom and sustain and a healthy houseplant.
Rustic Copper Plant Stand
A copper stand is also one of the trendiest stands that are used in most of the spaces. Many interior designers prefer a copper indoor plant stand for creating a rustic and classy look. 
You can also try to make a set of copper planters for that you might need buckets, copper pipes, and some other things like screws and tools. The customizable planters have the exact dimensions and shape that you want to give them.
Wooden Plant Stand
A wooden plant stand is one of the best things that you might need to make your space look elegant and beautiful. 
As soon as you cut some pieces for the legs just round them and sand them. Now, cut holes in the other sides so that you can add the x-shaped base.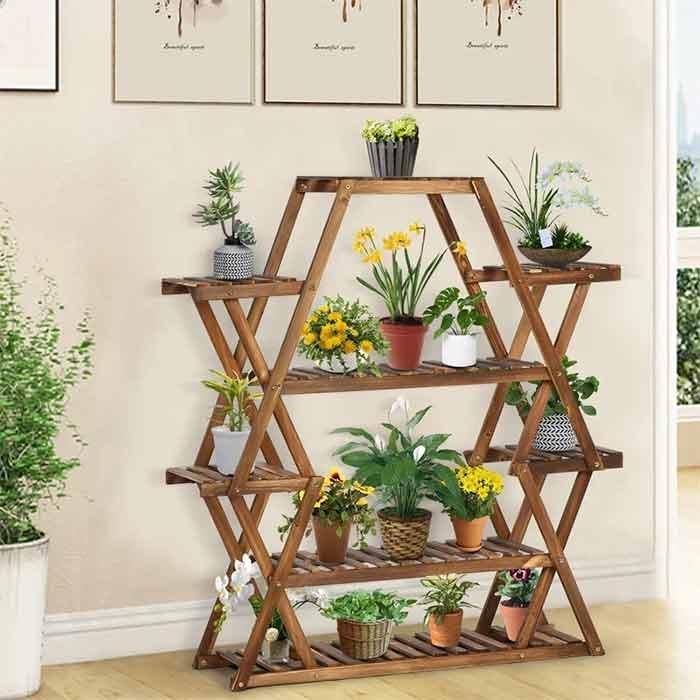 Put all the elements together and tie them using glue to keep them safe and secure after that stain the stand.
You may also like to read – Money plant benefits
Uniquely Designed Vertical Garden
A vertical garden is a kind of technique to grow plants on something that is structured uniquely on a suspended panel or attached to a wall. 
Your pots can take up a lot of space, and to combat that problem with ease, Vertical gardens are used as an excellent source as space-savers.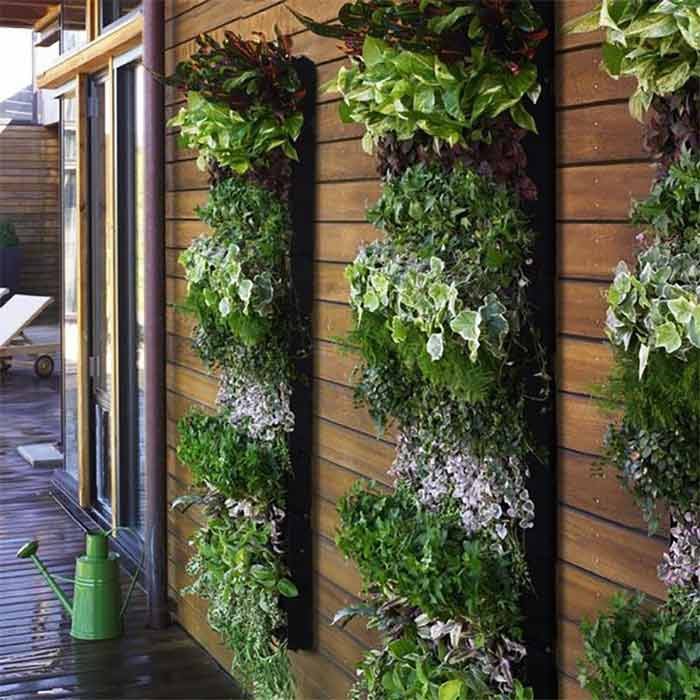 But, if you have a small backyard or patio, you would not want anything that towers your entire seating area and the fire pit table. 
It might have a rust-resistant powder coated with a steel frame. In case, if you want multiple planters to be placed in one spot, then multiple staircases in one stand can work best for your small space.
To create a small DIY vertical garden, you might need planter boxes, a wooden board, bolts, nuts, washers, screws, and drills. 
Small Plant Stand
A small plant stand often looks cute and chic. You will enjoy their design as they look lovely using the trembling miniature stools. 
One can even make these plants stand using small tapered legs. These stains and tape can help you achieve the desired look.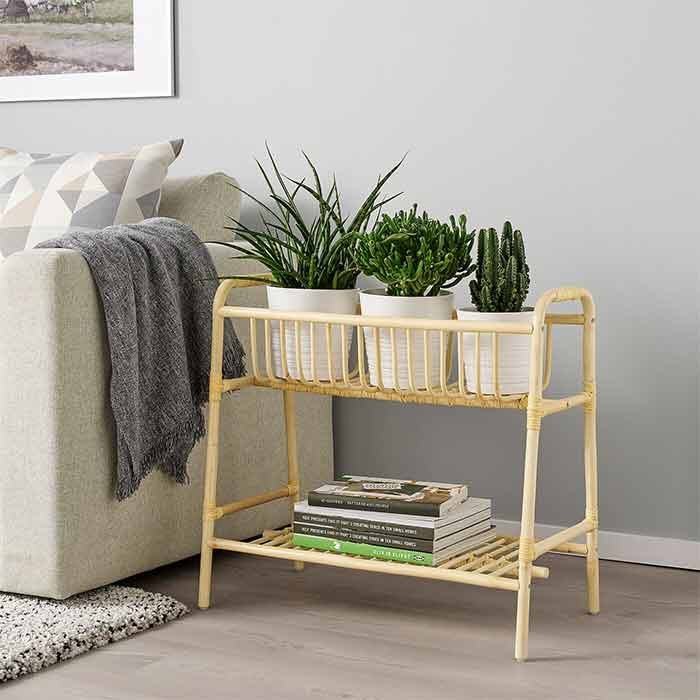 You can even paint them using an interesting color to create a vibrant and colorful look. These types of small plant stands are mainly used for spider plants. There you can use the set of small plant stands which is mostly used in Indian homes.  
Stair-Step Ladder Plant Stand
It is one of the easiest ways to get an indoor plant stand. You only need to attach some boards in the form of a ladder to help create a beautiful appearance of a staircase plant stand. 
It works out great if you want to make stand for your balcony. A similar design can look even more beautiful if given the right indoor.
Hanging or Floating Plant Stands
Floating or hanging plants are the best for home. All you need is a round wooden plate, yarn, and scissors. Then you can easily use one or more than one pot depending upon the size to place your beautiful indoor plant. 
Here you can also read about snake plant varieties for interior home decoration. 
Exquisite Japenese Plant Stand
These are one of the simplest-looking plant stands, but the surprise factor is it has a complex building structure. Making it on your own might require a lot of the right tools and equipment that can help to absolutely pull it off.
A Modern Styled Plant Stand 
Do you know that you can use your leftover materials to DIY a plant stand that looks absolutely modern?
So, everything should be measured according to the place or tile which is going to become the top while planning further steps for a DIY modern style plant stand.
Here is touch me not plant plant which are mainly used for home decoration.
Hacks For Using an Indoor Plant Stand
Use a plant stand that can help you to elevate your plants behind your couch or in any corner of your room. 

In case, if you have a multi-level plant stand then an aesthetically pleasing method is to place the larger plants on the bottom shelves. And, try to receive the top shelf for your small plants. 

You can even use an old footstool, or bar stool as well for a single plant.

One can paint a chair and repurpose the old chair as a plant stand. All you need to do is remove the seat and find a pot that can easily fit in the space where the actual seat was.
Conclusion: Even the most sophisticated and beautifully furnished rooms are decorated with a well-placed indoor plant stand. If possible, incorporate a planter and plant into your room's initial design which allows the space to look cohesive and intentional. The proper placement and choice of a house plant can be a design problem solver too.