The attractiveness of stone cottages is that they harken back to a simpler, more calm era, in contrast to the hustle and bustle of cities and modern life. Stone houses have been popular for centuries because of their classic good looks and earthy, rustic atmosphere. 
These small homes, whether found in the countryside or up on a hill, provide a tranquil haven for individuals who are looking to get away from it all and reconnect with nature.
To help you construct your ideal stone cottage retreat, this blog will examine architectural and interior design ideas that embody the spirit of rustic life.
Architectural Elements of Stone Cottages
Every stone cottage has its own distinct personality and visual appeal because to its own architectural style. Some crucial factors include:
As the name suggests, natural stones like limestone, granite, or field-stone are frequently used in the exterior construction of stone cottages. The cottage's exterior is made all the more charming by the stones' natural imperfections and textures.
Stone cottages typically have a steeply sloping roof with substantial overhanging eaves for both weather protection and aesthetic purposes.
Exposed timber beams and columns are a great way to soften the look of the building's stone exterior and round out the design.
Tiny windows with latticed frames are a common feature of traditional stone cottages. These windows not only add to the cottage's aesthetic value, but they also aid in keeping the cottage at a pleasant temperature year-round.
A stone cottage isn't complete without a porch or veranda, where the occupants may sit back, relax, and take in the scenery.
Also read: Almirah design
Cozy Living Spaces
A stone cottage's interior should be as warm and inviting as its outside. Think about these suggestions:
Stone Fireplace: Cosy up next to the fire in your living room's centrepiece. To add a touch of authenticity, go with a design that works in harmony with the cottage's existing structure.
Wood Flooring: The stone walls and ceilings are complemented by the wooden floors, which are both warm and luxurious. For a more weathered appearance, choose distressed or salvaged wood.
Wooden ceiling beams are left exposed, adding to the cottage's rustic appeal while also giving the impression of greater height and space inside.
Outfit the living areas with soft materials like comfortable throws, cushions, and rugs in earthy tones to generate feelings of relaxation and harmony with nature. d.
Decorate the cottage with antique and vintage furniture and accessories to give it a feeling of history and personality.
You should also read: Main entrance modern door design
Kitchen and Dining Area
A stone cottage's kitchen and eating space should provide basic necessities and a warm atmosphere. Here are some suggestions for a country-style cooking and eating area:
A porcelain or stone farmhouse sink is an enduring kitchen staple that brings to mind simple life on the farm.
Open shelving is a great way to show off your collection of vintage dishes and kitchen utensils in place of closed upper cabinets.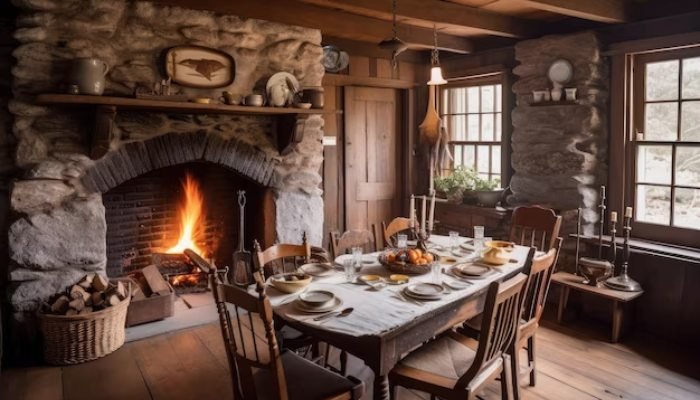 Hardwood counter-tops are a great way to bring the rustic kitchen design along with the rest of the house.
Being the focal point of the dining room and the anchor of the space, a rustic wooden table with a distressed finish is a great choice.
Consider installing an exposed brick backsplash in your kitchen for a dash of country chic.
May you also know: Sofa cum bed
Bedrooms and Bathrooms
A stone cottage's sleeping quarters and baths should exude an air of calm and relaxation. Put these into thought:
The bedroom becomes more romantic and sophisticated with the addition of a canopy bed and flowing curtains.
Use an accent wall made of stone to bring the outdoors inside the bedroom.
A claw-foot tub in the bathroom gives the space a nostalgic vibe and is a great way to add to the cottage's charm.
Try using an earthy colour palette and natural materials in the bedrooms and baths for a soothing and relaxing atmosphere.
Bedrooms and bathrooms can benefit from the addition of character and charm brought about by the use of vintage mirrors and light fixtures.
Also know about: TV stand design
Outdoor Spaces and Landscaping
Stone cottage gardens are an extension of the home, serving as a gateway to the outdoors. The following are some suggestions for outdoor spaces and landscaping:
Make winding stone walkways to the front door and all around the cottage to help it blend in with its natural setting.
Flower Gardens: Add colour and aroma to the outside areas by planting flower gardens around the cottage.
A modest vegetable garden increases the cottage's self-sufficiency and adds to the environment's rustic allure.
Construct a deck or patio to take advantage of the outdoors and host gatherings with friends and family.
Put in a stone fire pit for s'mores and stargazing under the stars on cool evenings.
Conclusion
A stone cottage is a labour of love to build or renovate since it takes careful consideration of each feature to achieve a balanced and comfortable space. A stone cottage's rustic charm and affinity with the outdoors make it an ideal place to get away from it all. 
If you're looking for peace and quiet, a stone cottage near the countryside or the coast is the perfect place to find it. Enjoy the rustic allure of stone cottages and design your ideal getaway, where natural splendour and homey amenities coexist.
Consider reading: