When you're staying away from your family either you are living in Pg or in a 1BHK apartment as a bachelor. Bachelor studio apartments typically have one small room with a separate bathroom attached to it.
While these types of apartments seem limiting and affordable than larger apartments. You must be missing out on a piece of your own room which you have left behind due to career or studies.
But look on a positive note, there can be many benefits of living in a bachelor suite like you can enjoy your privacy and investing time in things which you have never done. 
If you are missing out the warm and cozy heart of your previous room and worried about the same then we have a solution. When it comes to decorating a bachelor suite there are few design tips to keep in mind and then you can re-create your own dream house in just a small apartment.
Few tips to keep in mind!!
It's important to choose furniture that is both functional and stylish. Look for pieces that act as a multi-purpose like sofa-cum-bed or a built-in coffee table.

Consider using colors that are much approachable to your desires

Use a mix of light and dark colors that create a warm and relaxing environment.

Use curtains to divide the space and it will create a sense of privacy

You can also add different textures or patterns to add visual interest
When it comes to bachelor bedroom ideas, there are a lot of different patterns you can analyze and try depending upon your personal style and preferences. Here are some ideas to get you started:
Know more about- Bedroom wall designs
Designed for the Modern Bachelor Lifestyle 
The Minimalist style
Minimalist style is a popular choice for bedrooms as it creates a clean and uncluttered space that promotes relaxation and inviting atmosphere. The key to minimalism is simplicity and functionality.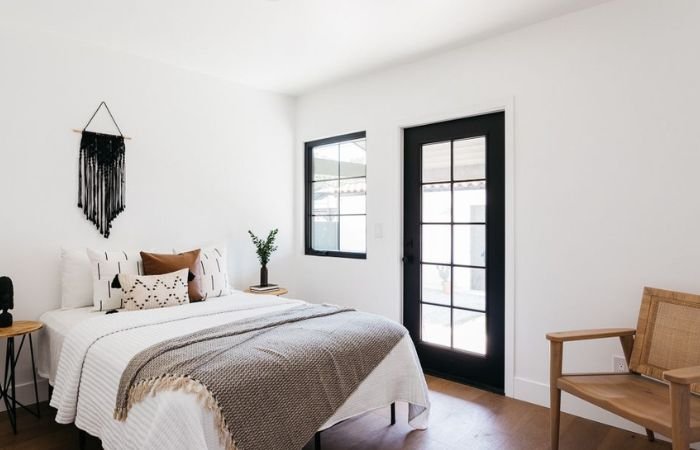 Here are some tips for creating a minimalist bedroom:
Choose a neutral color palette: Start by selecting color for your walls, bedding and furniture.Shades of white, beige and gray are popular choices among youth.
Keep simple furniture: Choose furniture that is simple and serves your functionality like a simple headboard, sleek dresser and a minimalist nightstand.
Minimize clutter: Clean away your surroundings by clearly displaying all the necessary items.
Opt for window: Choose windows that are simple and streamlined.
Use lightning to set the mood: A simple light or a floor lamp can create a vibrant ambience.
Add Natural textures: Add visual interest by adding soft woven rug, a wooden wall and a chunky knit throw.
You may like to read about- Tips and ideas for small bedroom
Industrial Style Bedroom
It is a popular choice for bachelors who prefer masculine aesthetic with a touch of vintage appeal. Keep it simple, functional and full of character by incorporating industrial and vintage material.
Here are some tips to create a Industrial style bedroom:
Choose an industrial color palette: Shades of gray, brown, black and white
Incorporate industrial materials: Use materials such as metal, wood, concrete to give an industrial feel
Choose industrial lightning– Lightning fixtures such as cage lamps or pendant lights.
Mix vintage and modern pieces: Look for vintage accessories such as leathered chains or an old trunk for storage.
Use rustic elements: Brick walls or wood accents that can add warmth and texture.
Functionality– Choose multipurpose furniture like built-in storage beds or a sleek dresser
Mid-Century Modern Style Bedroom
It is a popular choice for those who appreciate a blend of modern and classic design elements. By using accent walls, geometric patterns, iconic furniture and simple lightning you can create a mid-century modern style bedroom.
Here are some tips to create:
Choose a color palette: Mid-century color palette be like warm wood tones, earthy greens and vibrant oranges and yellow's
Look for furniture: Choose iconic mid-century furniture like Eames lounge chair or Noguchi table.
Use geometric patterns: Look for beddings, rugs or curtains with bold geometric patterns. Add extra decors to beautify your bedroom.
Emphasize minimalism: Incorporate uncluttered and simplicity in your bedroom
Use natural lightning: Choose lightning fixtures with clean lines and simple designs.
Rustic Style Bedroom
It is a popular choice for bachelors who appreciate a cozy, warming and natural aesthetic bedroom. By adding rustic accents and touches of industrial design can create a uniquely personified bedroom.
Here are some tips to create:
Choose a natural color palette: Rustic includes shades of brown, beige, green and white. You can also mix two colour combination for walls that suite your bedroom decor.
Use natural materials: Incorporate natural materials like wood, stone and leather 
Add rustic accents– Vintage signs, barn door headboard or a tree-stump
Use warm lightning– Floor lamp or table lamps to create a cozy ambience
Add a touch of industrial style
Focus on comfort: Choose bedding that is soft and plush
Sports Themed Style Bedroom
 It is a popular choice of bedroom for those who are passionate about sports and want to incorporate their love of sports into the bedroom. By using sports memorabilia, sports theme bedding and decor and sports inspired lightning can create this passion.
Here are some tips to create:
Choose a color scheme: Choose color based on your favorite sport team or sport.
Use sports memorabilia: Incorporate jerseys, posters or signed balls in your bedroom
Choose sports themed bedding: Choose bedding such as football or basketball print 
Add decor: Decor such as scoreboard, clock wall or glove chair
Use locker room elements: Such as metal lockers for storage or a chalkboard for notes
Use sports themed lightning
CONCLUSION
In conclusion, there are numerous options available for creating a stylish and functional bedroom. Whether it is minimalist or sports themed, the key is to create a space that reflects your personal style and space.
Some key elements to consider while designing your bedroom are choosing the right color palette, choosing the correct set of furniture according to the theme with natural lighting.
With a little creativity and adding accessories with detailing you can create your own personal style bachelor pad that reflects your style.
You can also refer- Best color for bedroom according to Vastu