A girl in her teens always wishes to live her life to the fullest, and this can actually be achieved even in small ways. At home, the bedroom is one such space of privacy for any teenage girl. 
Not only does it give them a sense of ownership and maturity but also helps in reflecting of the teen's personality and style.
Thus, it will come as no surprise if your child in her teens will ask to revamp her room on her own, incorporating her own tastes in the decisions. 
If you are looking for ways to revamp or style a bedroom using the best modern teenage ideas, then, this blog is perfect for you. The teenage years for any child start from thirteen and goes up until nineteen. 
Therefore, it can be difficult to keep changing the bedroom designs and décor every year. Mentioned below are some of the most trending and popular bedroom ideas for any modern teenage girl of any age to follow. 
Use Interesting Lighting 
Everything is about aesthetics in a teen girl's life. No one wants to use the old, ancient type of lighting in a bedroom, especially a young girl. 
Thus, you need to keep up with the ongoing trends and fads even in the lighting aspect.
Although natural sunlight is highly essential and it must be available in plenty in the bedroom, it is important that you have unique lighting along with the basic lighting. 
To do this, you can either replace the common light designs and go for unique ones, or switch up from the basic white light to colorful lights. Adding fairy lights in the room will also help give it a modern and young touch. 
You may also like to read – How to Decorate a Room for Kids
Place Printed Quotes and Pictures
You must always see teen girls quoting people in their conversations, or using the basic captions to justify a point. No wonder it will not hurt if you place quotes in the room. 
For example- you can just print just sayings such as- "Is it Friday yet?", "IDK IDC", "SLAY QUEEN", or even a simple quote from a movie or book. 
Nowadays, you can get these sayings in a neon light format which will lighten up the entire aesthetics of the bedroom. 
Similarly, you can have printouts of some of the favorite things that the teen girl likes, and paste them at the door or on the headboard of the bed. Go ahead with whatever makes you feel comfortable. 
Grow Small Plants
Nowadays, it is trending to grow small plants in the bedroom. These are mostly small cactus, English Ivy, or money plants. 
It is considered aesthetic to have pics of plants decoration in your bedroom, or even better to grow real ones. 
So, even if you are not a fan of gardening, you can place printed images of plant mood boards in your room on some wall. 
Adding a bit of greenery will help uplift the look of any teenage girl's room. 
Install Hanging Chairs and Shelves
If you want to add further seating accommodation to your bedroom, you can add hanging chairs in a corner. 
If you decorate the hanging chair with some blankets and cushions, this will become the perfect aesthetic corner for lounging or reading a book. 
You should also read – Wall Shelves and Selecting the Perfect One for Your Home.
Also, a teenage girl will require shelves to keep things organized manner. You can install open shelves either in some wall corners or above the bed, to give it a minimal look.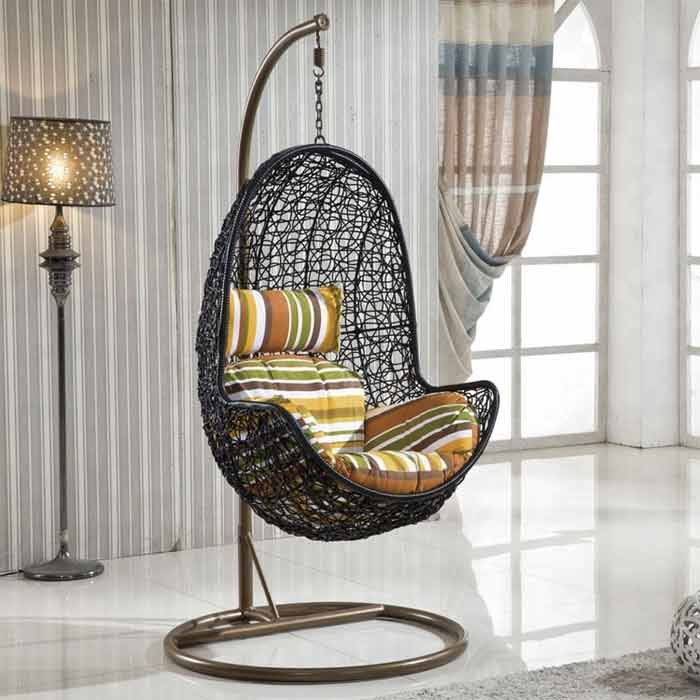 To decorate your shelves, you can place books, small potted plants, figures, lights, photo frames, etc. 
Replace Traditional Beds
A traditional bed can be imagined with four legs, so why not replace them in a modern teenage girl's bedroom? Nowadays, there are so many uniquely shaped beds available.
One of the simplest ways to replace traditional beds is by using a floor mattress. Using a floor mattress will give you enough headboard space that you can utilize with shelves, cabinets, or minimal décor.
Similarly, you can use platform beds that can have attached desks and storage drawers. 
Here are the Perfect Bed Designs For Your Kids.
Conclusion 
Giving any teenage girl a space that she can call her own is not just enough. You need to allow her to add snippets of her personality in the room too. The bedroom is one of the best places where a modern teenage girl can add modern features while maintaining her style in the room. You can use the bedroom décor ideas mentioned above to make it look unique and visually aesthetic.