A living room loft may be the solution you're searching for if you want to design a distinctive living area that's both fashionable and practical.
High ceilings, spacious rooms, and big windows which allow for lots of natural light are all characteristics of lofts. With a little imagination, you can transform your loft into a warm and welcoming living space that's ideal for unwinding or hosting visitors.
This blog post will discuss several living room loft concepts that can assist you turn your area into the ideal haven.
These pointers and techniques can help you design a magnificent living room loft that you'll want to spend time in, whether you're beginning from fresh or looking to remodel an existing area.
Take Comfort in the High Ceilings
The loft's high ceilings are one of its most distinctive characteristics. Accept them rather than attempt to conceal them! To provide the impression of spaciousness and airiness, use vertical space.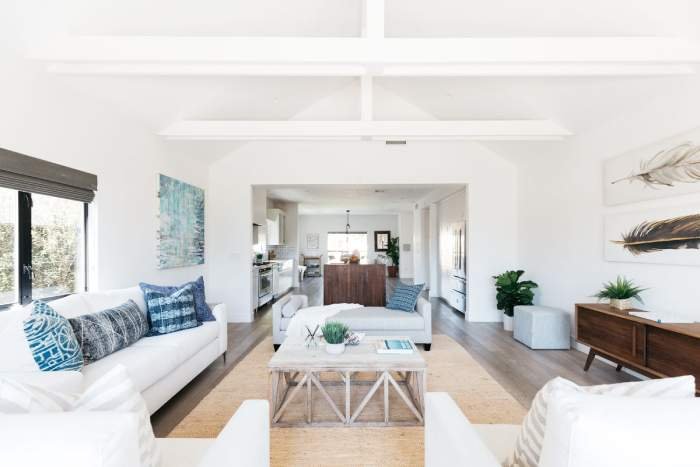 To bring the eye upward, hang a huge piece of art or a striking lighting fixture. To increase height and display your favourite books or decorative items, you may also install tall bookshelves or shelving systems.
Here you can also try these false ceiling designs for living room. It will help to add a unique appearance to your house.
Set up Zones
It might be difficult to distinguish between distinct spaces in an open floor plan, such a loft. Consider utilising area rugs, furniture arrangement, or even colour to divide off different areas in your loft living room.
For instance, you might place the sofa and chairs facing one other to provide a pleasant discussion corner or use a wide area rug to serve as the seating area's anchor. Visual boundaries can also be achieved by using colour accents in various regions.
Choose the Correct Furnishings
In any loft living space, furniture is an essential component. Look for furniture with clean lines, a contemporary vibe, and functionality and style.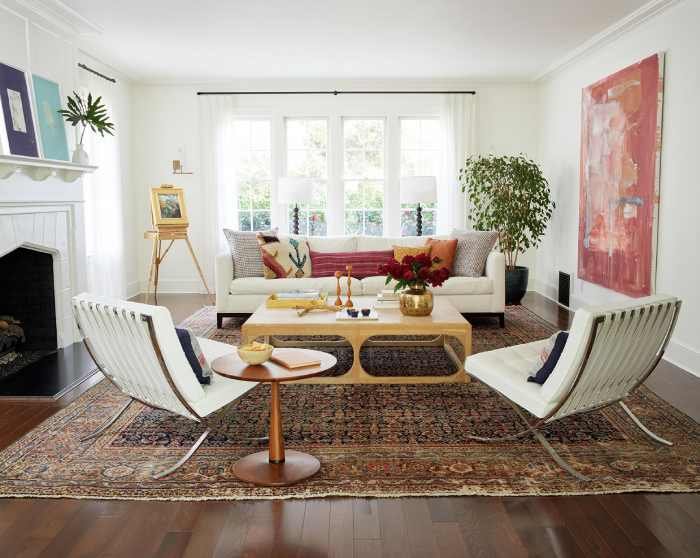 Since they are simple to configure to match the area, sectional couches are a popular option for lofts. Also, you have the choice of moving armchairs or modular seats.
A variety of materials, such as leather, and metal, may help the room feel more interesting and deep. Here you can pick the best furniture for your abode.
Increase Storage
As storage space in lofts might occasionally be limited, it's critical to utilize every square inch of your living space.
Search for furniture items with several uses, such as a video console with shelves or a coffee table with storage.
Another excellent approach to increase storage without using up valuable floor space is using floating shelves. To keep everything neat and organized, take into account utilizing attractive baskets or boxes.
Are you know about these best storage solutions for your home? These storage ideas are perfect for all types of house.
Let the Light in
Many lofts have large windows, which may be a substantial source of natural light. Use sheer or light-filtering window coverings to make the best use of your windows by letting lots of natural light inside.
Avoid using thick curtains or drapes that might give the room a closed-off or dark feeling. To assist reflect light throughout the space and create a welcoming mood, think about adding mirrors or reflecting surfaces.
Include greenery
A few plants may help bring the outside in and give a touch of beautiful nature to your living room loft.
Look for plants that do well in low light, such pothos or snake plants. Potted plants may help fill in bare nooks or shelves, while hanging plants or following vines can add interest and complexity to high ceilings.
Modern Industrial

: An

industrial chic living room

loft may be just up your alley if you enjoy the aesthetic of exposed brick and metal accents. To make a room feel contemporary and edgy, add leather furniture, futuristic lighting, and metal shelves.

Artistic Oasis

: An artistic sanctuary

living room

loft may be the best option for those who are creative.





To create a place that stimulates imagination and invention, use vivid, dramatic colours and

attention-grabbing art

. For a place that is both attractive and useful, include cosy seats and lots of natural light.

Minimalist Haven

: A minimalist living room loft may be what you're searching for if you like a more restrained

style of decoration

.





To make a room feel light and airy, use basic, clean lines and a

neutral colour scheme

. To keep the area feeling organised and clutter-free, incorporate lots of natural light and useful storage options.

More than just

decorative foliage

, plants can breathe life and beauty into any abode. They contribute to the creation of a soothing environment in addition to air purification and oxygen addition.





The numerous ways to use plants as ornamental components in home design will be discussed in this article.

Hanging plants

are a wonderful addition to any environment, especially those with limited space.





They give aesthetic flair to your home design while taking up very little floor space. To create a distinctive and natural effect, hang them from the ceiling, in front of windows, or on walls.

These

wall hanging designs are best alternative of hanging plants. These artificial hanging designs are easy to make and looking very decorative.

Little ecosystems housed

in glass containers are known as

terrariums

. These may be a wonderful, relatively small-footprint method to incorporate greenery into your home's décor.





Terrariums come in a variety of sizes and forms, and you can either make your own or buy pre-made ones.

Window Gardens

: Window gardens are ideal for people who wish to make the most of the natural light in their homes and include a little bit of nature.





You may grow herbs on a ledge or put

little potted succulents

and cacti on show. They provide a purpose in addition to being aesthetically pleasing; you may utilize the herbs in your cuisine.

Vertical Gardens

: Making the most of available space, rooftop farms are a fantastic way to bring nature within.



They can be made by constructing a modular system or putting planters on a wall. Vegetables and herbs can be grown in vertical gardens to make a green wall.
In conclusion, adding plants to a room may offer beauty and liveliness at a little cost. It's easy to improve the appearance and feel of your living room by introducing plants into your home design, whether you decide to make a hanging garden, add statement plants, or make a terrarium.
Frequently Asked Questions:
Question:
Answer: