Door panels are sometimes ignored in home design, yet they may have a significant influence on the aesthetic and feel of your room. There are several door panel styles to pick from, each with its own style and advantages. In this article, we will look at the many sorts of house doorway panel designs and help you determine which one is right for you.
Flush Door Panels: Because of its clean and simple form, flush door panels are a popular choice for modern houses. They are constructed by attaching a thin layer of wood to a solid core, giving them a smooth and uniform look.
They are available in a range of wood veneers and finishes.Flush door panels are also simple to clean and maintain, making them an ideal solution for busy families.
Raised Panel Doors: Raised panel doors are a classic style that can lend a touch of sophistication to any home. They are constructed with a solid wood frame with a raised or carved central panel with a beautiful design.
Raised panel doors are available in a number of styles, including Shaker, Georgian, and Victorian, to mention a few. They are a flexible alternative that can go with any interior design style.
Glass panel doors are an excellent way to bring natural light and aesthetic flair to your house. They may be made with transparent, frosted, or stained glass to meet your privacy and aesthetic demands.
Glass panel doors are widely utilised in areas where natural light is required, such as entryways, living rooms, and kitchens. They also contribute to the perception of more space in compact areas.
Louvred doors are a distinctive style that may give texture and charm to your house.They are made of horizontal slats that allow air and sunlight to circulate through while retaining privacy.
Also read: Main door glass design
Bathrooms, closets, and utility rooms are popular places to find louvred doors. They are also popular for beach villas and tropical-themed decor. Dutch doors are a lovely design that is perfect for households that have kids and pets.
They are separated horizontally so that the top and bottom halves may be opened individually. Dutch doors are widely used in kitchens and playrooms to keep an eye on children or pets while retaining privacy. They also provide a country-style flair to any property.
Hardwood panel doors are a timeless and sophisticated compliment to any home. They are not only utilitarian, but they also provide a decorative element to your living environment.
Hardwood panel doors are available in a number of styles, each with its own distinct qualities. This blog will look at 15 distinct wooden panel door designs that will undoubtedly inspire you.
6-Panel Doors in the Classic Style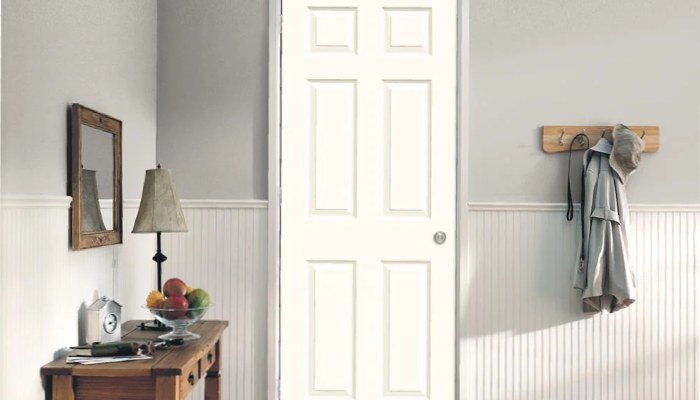 The classical 6-panel door is a timeless design that has stood the test of time. This design has six rectangular panels, two bigger at the top and bottom and four smaller in the middle.
6-Panel Arched Doors
A stunning variant on the standard 6-panel door is an arched 6-panel door. The arching top provides a touch of refinement and elegance.
You should also know: Flush doors VS wooden doors
Wooden Door Panels
4-Panel Doors
A four-panel door has four rectangular panels, two bigger at the top and two smaller at the bottom.
Doors with a Rustic Look
Rustic wooden panel doors are ideal for houses decorated in a country or farmhouse design. These doors are frequently damaged and may have ornate hardware such as wrought iron knobs and hinges.
Doors with Carved Designs
Carved wooden panel doors are a piece of art in and of themselves. These doors have elaborate patterns and decorations etched into the wood. They are frequently found at grand doorways or in homes decorated in a traditional or bohemian design.
Sliding Barn Doors
Sliding barn doors are a fashionable feature to contemporary homes. They have wooden panels that open and close by sliding along a track. These doors are ideal for houses with an industrial or rustic theme.
May you also read: Door paint ideas
The French Doors
French doors have many glass panels divided by wooden muntins and are a traditional and attractive design. They are frequently used as a separator between two rooms or as a spectacular entryway.
Doors Made of Solid Wood
Solid wood doors are a classic form with a single panel of wood. These doors are ideal for historic or colonial-style homes.
Panelled Pocket Doors
Panelled pocket doors are a terrific way to save space in tiny spaces. When open, these doors include wooden panels that slide into the wall, allowing for maximum floor area.
Painted Front Doors
Hand – painted panel doors are an excellent way to bring colour to your house. They are frequently observed in homes.
Minimalist Doors
Clean lines and a basic design distinguish minimalist wooden panel doors. They are ideal for modern houses with a minimalist or Nordic design aesthetic.
Dual Doors
A residence with double wooden panel doors makes a big entry. They have two panels that open in the middle, creating a large and welcoming entryway.
Glass and Panel Doors
The beauty of wooden panel doors is combined with the utility of glass panel doors in panel and glass doors. They have hardwood panels at the bottom and glass panels at the top, which provide a lovely view of the outdoors.
Consider reading: