Dreaming about having a home is normal, but there's a significant difference between purchasing a pre-built property and planning the construction yourself.
It entails a lot of studies, sourcing of materials, hard work, and sweat. You have to do market research before starting the construction, price comparison a lot of things you have never done in your life.
Some of you may have acquired information and if you haven't, go through this article on how to choose "sand" for your project.
Why is Sand Used in Construction?
Sand is an essential element in the creation of a construction project sturdy and tenacious. Sand may be easily compressed, making it an ideal wall reinforcement substance. It must be combined with other substances in the correct proportion to obtain the desired effects for any type of flooring or foundation. The proportion of rocks and other impurities in the sand is important when selecting sand for construction work. They make the sand less sturdy and durable.
It's one of the most popular materials utilized in construction. The quality of the sand you use will influence how well it binds with other materials.
Have a look at cement sand ratio for plastering here when you are getting your construction done for your home or office.
Types of Construction Sand
River Sand
River sand, also known as natural sand, is one of the most frequently used sand in construction. Due to its fineness, the texture of the sand has made it temporarily unavailable. River sand is a kind of natural sand because it is typically found near river banks and streams.
Another thing to consider when using River Sand is that the sand has a high Silica content, which should be checked before utilizing it in construction. The amount of silica in the sand must not exceed 5%. Using river sand has the advantage of requiring less water because it contains greater moisture content.
Want to know the cement sand ratio for brickwork while constructing a home or office? Here we have the complete guide on sand including density, bulking of sand, and its types.
Pit Sand
Pit sand is a type of sand that occurs naturally in the earth's crust and lies between 1 and 2 m below the surface. It's composed of tiny, sharp-edged grains. One of its main characteristics is that it allows materials used in construction to adhere to each other.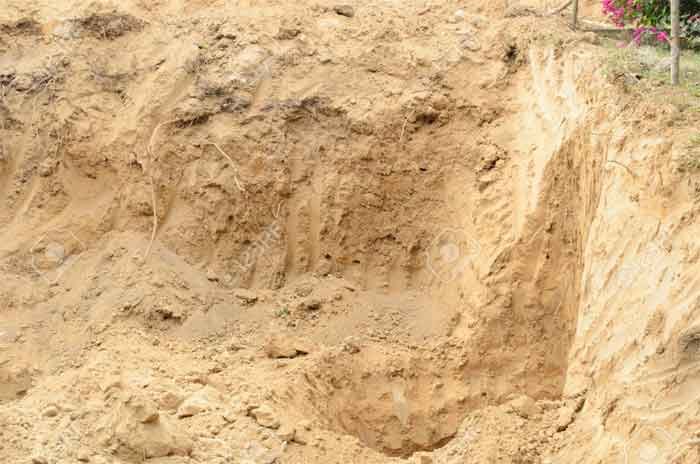 While the River sand is often tainted with salts and silica, there are no such issues with Pit Sand since it is unadulterated salt that happens to be naturally present within the soil. If you want high-quality sand for your landscaping, pit sand may be a good option; however, only if the sand coarseness is by the rules.
Manufactured Sand
If you can't locate River sand, manufactured sand is the finest option and is also known as eco-friendly sand. Manufactured sand is made by grinding the granites into a fine texture.
Manufactured Sand may be found in two forms. Granite can be crushed or blasted to produce this material and is good for plastering walls. To obtain the texture of natural River sand, these particles go through several stages of processing, including crushing, sieving, and washing.
Due to the scarcity of River sand, people have begun using higher quality Manufactured Sand more recently. It is also more ecologically responsible and sustainable than River sand.
Concrete Sand
Because it is a combination of several materials, concrete sand has a textured surface that is generally larger than other sands. Concrete sand has the greatest binding power and is one of the most commonly utilized sands in construction.
Also read about coarse aggregate as well here while going for construction work.
Masonry Sand
Mason sand (also known as masonry sand or mortar sand) is a kind of fine sand frequently utilized in building projects. This sand features uniform-sized grains, giving it an elegant appearance and feel.
Mason sand is a type of construction aggregate that is used in masonry work. The finishing works around the outside are particularly important.
Consider Reading about Construction Cost Estimator to get an average construction cost in your area for construction.
Fill Sand
This type of sand is primarily used to fill. It's a mix of sand grains and aggregates, and it's a major base material for concrete casting, large hole filling, paving, and other similar projects. Its capacity to empathize makes it an unbeatable foundation material for construction.
Fills sand is also much more advantageous when constructing in wet regions since it acts as a backstop to help with drainage issues around septic tanks.
Know about construction cost for marriage hall here if you are planning to get a marriage hall constructed in your area.
When selecting sand for your construction project, be sure to select the type that is best suited for your needs.
Sand Density
The density of loose sand is 1442 kg per m3. The average density of dry sand is 1602 kg / m3.
The density of packed sand is calculated to be 1682 kg per m3.
Bulking of Sand
The term "sand bulking" refers to an enlargement in sand volume as a result of an increase in moisture level. A layer of water is formed around the sand particles, pushing them apart and causing the volume to rise.
If the sand is dry, it's known as bulking. The quantity of water in the sand grains affects the growth of dry sand. The increase in moistness in sand causes it to bulk up. The quantity of water present within the sand determines its swelling capacity. Sand that has been dried may expand by 5% or more with just 5% to 8%. For coarse sand, this increase is approximately 20 to 40 percent; for fine gravel, however, it can be as much as 50%.
The moisture in the sand determines how much sand is bulked. However, as the film around the sand particles thickens and breaks as more water is added to wet sand, the sand particles get closer together. The volume of dry sand exactly equals that of fully full water.
Also read: materials to labour cost analysis for construction works
Conclusion
As we all know, sand is an important construction material. It is a sort of sand that is popular in building projects such as masonry work, concreting, and plastering. It's crucial to pick the appropriate type of sand for the appropriate use.
The density and bulking of sand also need to be considered while selecting it for construction work.
The above post is an overview of the different types of sand available for construction purposes. It discusses the properties and uses of each type of sand.