Whether we agree or not, the center table is something that catches our attention whenever we enter the room. It is also known as the coffee table placed at the focal point of the living room. Now, there are so many ways in which one can dress up this center table to elevate the entire look. 
From table runners to coasters to centerpieces and books, there are myriad options available in which you can doll up your center table. But, here we are going to tell you how you can style your tables in an accurate way. Here, are some easy-to-put-together ideas and styling tips that you can try out for the table decoration.
Go for Dressy Runners 
If you are not having a lot of stuff to display on the center table, and you are saving for some aesthetic beautiful pieces, then there are still ways to get creative.
You can just try placing a pretty runner on the center table. It will offer vintage or contemporary feel. There are various l lace or applique design to choose from that matches the whole vibe of your room.
One can look for nude and pastel colors for the dark color tables. It will offer an amazing design to your entire room. 
Keep the decoration simple 
For decorating the center table, you don't have to go out of the box when you can achieve the best look with just a fresh twist to your table decor.
For example, you can try out marbles or luckily stones in a bowl. Go for a different shade or you can even go for a monotone style depending on your choice. It will make a perfect combination of prosperity and decor. 
Place Collectibles 
If you are having a lot of valuable collectibles then also it can be styled with ease. Go effortlessly and place these collectibles at the center table to make it the center of attention.
One can also try different looks from these collectibles. So, style your center table and assure that you are maintaining the style element without any hassle. 
Play in Odd Numbers 
If you are following the common rule of design, then it is always better that you choose elements in odd numbers. Depending on the size of the table, go for three or five different elements. It is also important to note that every part of the table must be the same and visually appealing as well. 
Dividing the Table into Balanced Quadrants 
Divide your table into quadrants and place items in each of them to achieve visual balance.
They do not need to match with each other, but you'll want to use things that take up a similar space. For instance, one can use a stack of books in one quadrant, or you will want to use a bowl of similar size in the quadrant diagonal from it. 
Adding plants at the Center 
If you want to make your table look stunning, then add some greenery to the table and it will offer a natural look. One can also add pots full of lush plants or shining vases of flowers. This will brighten up the entire table way with the perfect pop of colors.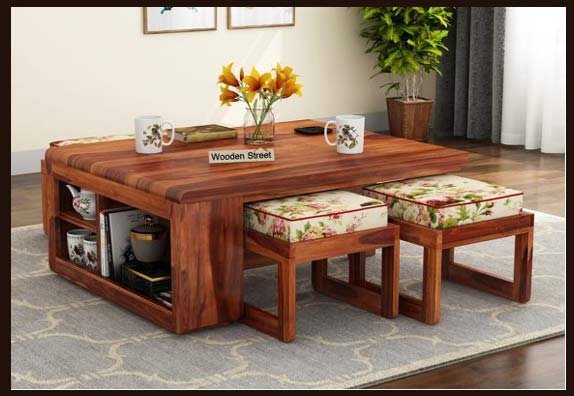 In addition, if you're worried about taking care of plants, then you can check out amazing tips for taking care of indoor plants here. Go for the plants that don't need daily watering and require only indirect light. 
Pay Attention To Small Details 
If you want to give your table a nice look, then it is important to keep this thing in mind that, you should not keep everything at the same level. Doing that will result in the loss of its essence. Make sure that you mix up things for creating a stunning effect. 
Tie Elements with the Tray 
Keep your things a little neat and tiny even while you are placing different elements together such as candles, pottery, and more. One can also achieve a boho classic look with ease.
But, for that, you need to place your items in a tray first before you put them on the center table. One can also add character to the decor while holding the theme together. 
Collection of Travel Curios 
If you love traveling and there is a curious traveler inside you that keeps on collecting the traveling items then it would be a great idea. Display the wonderful items that you've got back home and place them on your center table. It will make your space look extremely beautiful. 
Creating Balance 
There is no harm in playing with different colors, but it is always better that you create a subtle balance between the elements. 
Keep things organized so that they can reflect the magnificent look that you have always desired. For instance, you can go for elements having different shapes and symmetry, it will make the entire look extremely fantastic. Or, you can even try out patterned napkins as well for a unique appeal. Here you can also look at the latest designs in the dining table set. 
Glass Effect For Visual Display
Want to create a superb visual display with your books and accessories, then it is always better that you go for a glass-top center table with a shelf below it. It is a great way to arrange small things.
Glass tables can be an indulgence and can be a gorgeous addition to the living room decor. In addition, you can create the glass effect by placing the vases, bowls, and other eccentric pieces.