While it may not get much attention, a home's laundry room is actually rather important. It's where the disorder of filthy clothing becomes the peace of clean ones.
Well-designed laundry room storage may be a game-changer for making the most of this practical but underutilised space. 
In this article, we'll look at a wide variety of stylish and functional laundry room shelving options that can help you better organise your area without sacrificing aesthetics or functionality.
Floating Shelves, a Contemporary Accent Choice
One adaptable and stylish alternative for storage in the laundry room is the use of floating shelves. Installing these shelves above your washing machine and dryer will put detergents, fabric softeners, and other laundry necessities right at your fingertips.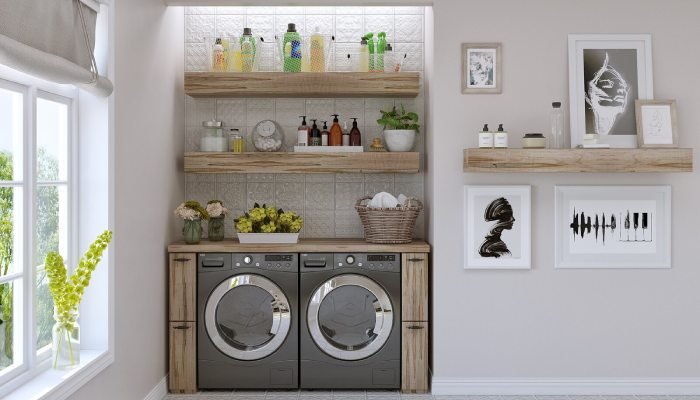 You may also give a more personal touch to the room's design by displaying decorative things on floating shelves. Some examples of these items are artwork and plants. Use shelves made of wood or metal for a more aesthetically pleasing look in the space.
Open Wire Shelving to Provide an Appearance of Airiness
Shelving made of open wire is a fantastic option for laundry rooms that want to achieve a more modern and open atmosphere. 
These shelves enable air to flow, which helps to minimise musty smells and promotes optimum ventilation for the objects that are being kept. Make use of wire racks for the storage of laundry baskets, towel baskets, and cleaning supply baskets. 
In addition, the space feels more open and airy thanks to the simple style of the furniture.
Shelving that Goes over the Door to Maximise Available Space
Installing shelves over the doors of your washer and dryer can help you make the most of the vertical space in your laundry room.
These narrow shelves are ideal for storing smaller goods such as cleaning supplies, spray bottles, and detergents because of their space-saving design. 
They prevent debris from collecting on the worktops and floors, giving the impression that your laundry room is neat and well-organised. Over-the-door storage is very helpful in laundry rooms that are on the smaller side.
Also read: Floating shelves ideas
Cabinets that are built-in and include shelving
Investing in built-in cabinets that have integrated shelves is a good idea if you want your space to seem unbroken and organised. 
Laundry detergents, hampers, and several other necessities all have a place to call their own in these cabinets, which provide a neat and unified storage solution. 
You have the option of selecting both closed cabinets and open shelves in order to strike a balance between concealed storage and quick access to products that are used regularly.
Pegboards, the Most Versatile Storage Solution
Pegboards are an excellent addition to any laundry room since they provide a variety of storage solutions that can be customised. Put your pegboard to work for you by customising it with hooks, shelves, and storage bins. 
Pegboards are extremely versatile. To make items like laundry bags, brushes, and even ironing supplies more easily accessible, try hanging them.
Pegboards are not only useful, but they also provide you the freedom to experiment with the way you arrange the components of your storage.
Station for Folding Objects, Equipped with Shelving
Adding storage and a folding station to your laundry room will turn it into a multitasking utopia that you'll love spending time in. 
Put a counter-top above your washing machine and dryer for use as a folding station, and use the space below the counter to store laundry baskets and containers.
This arrangement guarantees that the transfer from washing to folding goes without a hitch, which will streamline your laundry routine.
You should also know: Bathroom direction as per vastu
Corner Shelving to Make Use of Every Available Space
Don't throw away potential savings in the crevices! Installing corner shelves that maximise storage capacity is a great way to make use of otherwise wasted space.
Laundry materials, cleaning goods, and other necessities that require a specific location to call "home" can be stored on these shelves. 
Shelving that is configured in the shape of a corner is particularly useful in laundry rooms that are on the smaller side and must make optimum use of the space available.
Pull-Out Shelves That Provide Concealment for Storage
Ingenious pull-out shelves are a great idea for a creative solution to the problem of providing concealed storage space in your laundry room. 
Installing pull-out shelves beneath counters or within cabinets allows for easier access to objects that would be difficult to reach in the absence of such storage solutions. 
Laundry hampers, detergents, and other cleaning supplies may be neatly hidden away on these shelves when they are not being used, making them a perfect storage solution.
May you also like to read: Vastu for home
Shelving in the Form of a Ladder for a Hint of the Rustic
Using shelves in the manner of a ladder may give your laundry room a more country-styled and endearing appearance.
You may hang drying clothing, towels, or even hampers from a vertical storage solution like a wooden ladder that has been reused for this purpose. 
Choose, as an alternative, shelves in the manner of a ladder that lean against the wall to provide a novel means of display and storage for your belongings.
Wall-Mounted Baskets as an Unconventional Storage Solution
Wall-mounted baskets provide a practical purpose while also adding a nice decorative touch. Mounting baskets on the wall provides a convenient location for stowing rolled-up towels, laundry detergents, and other necessities. 
Choose baskets with a variety of shapes, sizes, and materials to incorporate a feeling of texture and cosiness into the design of your laundry room.
Conclusion
With some creative storage solutions, you can easily turn your laundry room into a streamlined haven of efficiency. Each storage solution, from ladder shelves to open cubbies, has its own distinct design and set of advantages. 
While deciding on the finest storage options for your laundry room, take into account the area's dimensions, layout, and aesthetic preferences.
You may improve your laundry room's efficiency and create a place that emanates flair and order by using some of these creative shelving ideas.
Consider reading: