Know all about plumbing Traps like bottle, gully, nahani, floor, steam, wash basin, p, s, intercepting, multi traps etc and their Uses
If you have ever had plumbing needs, then you must have come across this plumbing equipment – a trap. In simple words, a trap is a bent pipe device that is connected to a drainage system to prevent any unpleasant odor from escaping from the sewage area into one's house.
As one cannot prevent or avoid the production of toxic and unpleasant gases from sewage waste, one can certainly avoid its entry into the house. The trap retains fluid, or water, that takes the role of a barrier in blocking foul air.
The efficiency of a trap is based on the water seal depth which varies between the 40mm to 70mm range. The distance between the first bend at the top to the other lower bend signifies the water seal's depth.
Only the plumbing experts can assure you of a healthy and germ-free environment. With their profound knowledge, you can set up the pipework for a proper drainage system in your house.
Plumbing and drainage systems are designed on the same basic principlesfor every house,but we never realize how they actually work.
When you open a tap, the water just doesn'tflow away through the drain, alittlecomplicated process in involved in the drain lines. And, plumbing traps play an important role in removing the wastewater from your house. Traps are not a secret of trade, but most of us take them for granted. Modern plumbing systems are designed with a variety of traps that are intended to keep the sewage system fresh and free from bacteria.
What are Traps?
As the name suggests, traps simply trap the water and sewer gas. A trap is a plumbing device used to prevent smell, bacteria, and insects entering your home. Every water using appliance or fitting have a drain line to flow out the waste water, and you must have a trap in the pipe that seals the drain. The seal is important to keep the environment fresh as it will prevent sewer gasses from entering the building. You can see traps equipped with varied plumbing fixtures like sinks, bathtubs, toilets and washbasins.
Also read: Construction Cost Calculator
With the help of several connections, you can install a trap which is usually located within a plumbing fixture. Traps are designed in such a way that it retains some amount of water which indeed creates a seal for foul gasses and stops them from entering the property.
Before you invest in a trap, make sure you never get an issue of fixing the loosened trap every now and then. To avoid such plumbing faults, keep in mind that
The trap you are going to use must have a self-cleaning
Traps designed for domestic waste must be cleaned easily.
There should be an assurance of efficient water seal in every flow condition.
Some appliances come with integral trap; others need an attached trap to connect to the water outlet.
To prevent the nasty odors coming out of several sewage disposal systems, it is important to find the best quality traps.
Different Types of Plumbing Traps & Uses
Modern plumbing systems use either 32mm or 40 mm fittings including traps. Depending on the usage of the traps few regulations and the depth of the seal must be kept in mind. Here are varied types of traps that are found in modern plumbing fixtures.
There are many different types of plumbing traps that are manufactured. These include-
P Trap
Usually made from cast iron or UPV sheets these traps are widely utilized for Orissa pattern water closet systems. These traps feature screw joint half way along and can be easily removed without disturbing the pipe work.

With P-traps it is easy to adjust up to 270° in the horizontal plane to position the waste pipe. Though these traps prevent entry of foul gasses, but you might need extra space to accommodate these traps.
A P trap has a lateral waste water outlet with a screw link in the centre that allows the outlet to be turned to the proper angle for installation. This u-shaped bend in a waste pipe connects a sink drain to a residential septic tank or a municipal sewer system.
P-traps always hold some water under normal conditions. This style of trap promotes free passage of waste water and is less prone to obstructions and junk accumulation. They do, however, take up more room than a bottle trap.
Although they were very prominent in the 20th centuries, nowadays, there are better alternatives. Overall, a p trap is a vital part of any modern plumbing system making an important p trap commode or p trap toilet.
S Trap
Work similarly as P-traps, the S traps are ideal for water closet in toilets. S traps are also designed with a screw joint to make trap removal easy in case of blockage.

S traps are generally used for creating an outlet through the floor. S-traps are plumbing traps that prevent sewer gases from entering your home's sink and other plumbing fittings. The S-shaped pipe structure, or the s trap catches wastewater before it descends to the sewage line, forming a water seal that prohibits harmful gases from escaping the drain.
But the s trap has its own con. When a high volume of liquid flows through this kind of s trap commode, it can end up generating too much suction, which will end up pulling water out and leaving the trap dry.
The dry trap, now, creates an air pocket, allowing sewer gases to easily enter the house.
Gully Trap
Usually found outside the building, gully traps are best suited to carry waste water discharge from bathrooms, sinks, and washbasins. Featuring a minimum 50mm seal, these traps are deep seal designs that are connected to the nearest sewer to prevent entry of foul gasses to the building.

Featuring a unique design these traps are useful to prevent the entry of vermin and cockroaches. A gully trap is a ground basin that collects pipe wastewater from your home before it is dumped into the sewer network.
The basin features a water seal to keep sewer odours from reaching the surface and a vent pipe to let fresh air in.
Its prominent grates are elevated above ground level to avoid rainfall and other foreign debris from entering the sewer network but are sufficiently low to prevent wastewater overflow into the home if a pipe downstream becomes blocked.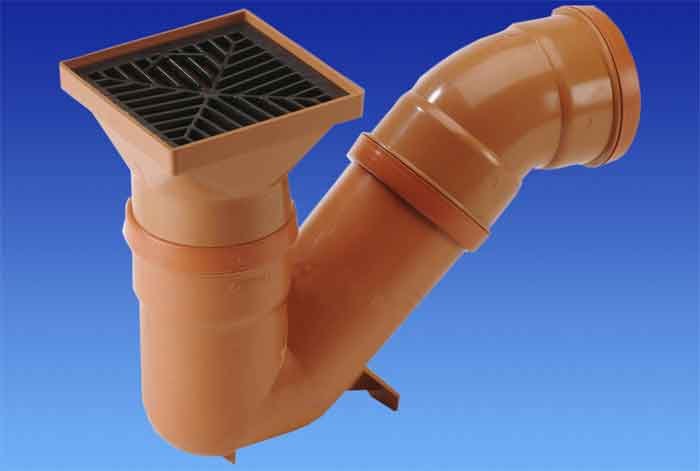 In severe rains, an inappropriately connected stormwater pipe to a gully trap which is known as a cross-connection can cause the wastewater infrastructure to overload, resulting in a wastewater overflow.
Floor Trap
These traps are utilized under the washbasin, sink or shower. Widely seen in the bathroom these traps are used to collect wastewater with its 50mm deep water seal.
You can find traps for your bathroom floor in cast iron or UPVC material. These traps are designed with a removable grating on top of the trap. The floor trap is also synonymous with the Nahani trap, and they are available in a variety of shapes and sizes.
Their main purpose is to collect wastewater that comes from the kitchen or bathroom sinks, wash basins, and the bathroom. Fitted at the flooring of such places, the floor trap or nahani trap is available in uPVC, PVC, or cast iron.
Such traps generally have an 80mm diameter and 50mm water depth.
Grease Trap
These traps are highly useful for food processing units as the trap is specially designed to collect grease content and it is very easy to clean these traps from the surface. The design works effectively to intercept most grease and solid contents entering a wastewater disposal system. Since these traps are used to reduce the amount of fats and oils entering the main sewer, these traps can be found at commercial cooking facilities.
Intercepting Trap
It is the most important plumbing trap that prevents entry of foul gasses from the public sewer into the building sewer. Designed with a deep water seal of 100mm these traps are installed at the last main hole of a building sewerage. By creating a water seal, an intercepting trap is built to prevent foul gases from public sewers from entering a building's sewer. These traps, with a 100 mm deep water seal, are erected at the building's last main sewerage hole.
Bottle Trap
In this type of trap, the waste pipe is fitted horizontally, and you need to unscrew the bottom to clean it.
You must have noticed the bottle trap located directly beneath the sink or washbasin, aka the bottle trap wash basin. Bottle traps have a horizontal sewage exit and the lower part unscrews to allow debris and clogs to be removed. A bottle trap takes up less space under the appliance than P or S traps and are useful where there is limited space. They are prone to catching trash due to their design.
One always makes the mistake of viewing and selecting the most attractive basins and taps for the bathrooms, but often overlook the bottle trap, a basin attachment that does much more than just make the washroom appear nice.
Ideal to be installed in limited spaces the bottle traps are widely utilized at pedestal mounted basins and sinks to trap foul gasses.
Q Trap
The Q traps work similar to the S traps and are used under the water closet in the toilet. The only difference between S trap and Q trap is that you install a Q trap in the upper story toilets and the S traps are used for ground floors.
The depth of water in a trap is called water seal, and it should be 50mm for water closet and for floor trap. For longer life of the traps, it is important to protect the seal from breaking. The water seal can break due to air compression, thrust, and evaporation, thus always make sure to have a properly ventilated trap.
Multi Trap
The Multi trap is a soil, waste and rainwater (SWR) device that is installed in both the sunken floor and the suspended overhead to receive wastewater from the basin, shower, sinks, and bathroom spaces.
Why are Plumbing Traps Important?
A trap prevents sewer fumes from traveling up your house's pipes and invading your home. These include explosive methane gas and hydrogen sulphide gas, both that are responsible for causing potential hazards to one's health.
The trap also has the added benefit of trapping objects like jewelry that can easily be retrieved, thus, helping you get back something of extreme worth or value. But do not forget that the primary function of a trap is to capture sewer toxins and keep them from entering your home. It is critical for your household and your wellbeing that traps are fitted appropriately and examined for any problems on a regular basis.
When is a plumbing trap to be considered inefficient?
To help you know when your plumbing trap is not working well, mentioned below are a few properties that you can take note of.
It does not show the self-cleansing feature.

There are no appropriate access means for cleaning.

It no longer provides for an appropriate water seal under all types of water flow conditions.

There is a strong sewage gas smell present all the time.

The inner surface is not smooth which leads to debris getting stuck at certain nooks.

There are internal projecting sides or angles that prevent smooth flowing.
Conclusion
Many times people ignore such basic hygiene protocols which could lead to future discomfort. One must not forget the importance of plumbing traps and book a regular maintenance check up for them. A small step taken today can help prevent you from many issues in the future.