Table Of Contents
Glass Films are a thin laminate sheet that can be applied to the interior or exterior of the glass in offices, homes, automobiles, etc. It is composed of polyethylene terephthalate (PET), which is a thermoplastic polymer resin. PET is used because of its clarity, tensile strength, dimensional stability, and ability to undergo a wide range of surface applied treatments.
Glass films can be categorized in numerous ways:
By their construction components (dyed, pigmented, metalized, ceramic or nano)
By their intended use (automotive, marine or architectural)
By substrate type (glass or polycarbonate)
By their technical performance (privacy, solar control, safety, and security)
There are many varying standards, tones, tints, and widths available in the market to offer solutions to a variety of challenges. These films are generally installed by an expert but there are also DIY kits widely available in the market these days using which you can easily upgrade your already existing glass. We also have some window design ideas for you.
Glass films are generally used to address problems like:
Heat and Glare Reduction
Glass films are an extremely cost-effective method to reduce heating and cooling costs in existing buildings by reducing the amount of heat transfer through glazing. These films reduce the heat and glare of the sun without reducing the natural light so that you can have a comfortable environment in your home.
Thermal Insulation
Thermal Insulation Films reduce the excessive heat in summers and also limit the heat loss in winters. By installing these films you can save a lot on your heating and air cooling devices and get a very comfortable environment in your home at a very low cost.
UV Filtration
Exposure to direct sunlight can cause many colored or painted materials to fade. Heat rejection films are normally applied to the interior of flat glass windows to reduce the amount of infrared, visible light, and ultraviolet (UV) radiation entering from the windows. Save your interiors from fading and sun damage.
Safety And Security
Security films are used so that when the glass is broken it holds together, preventing dangerous small glass pieces from flying around or to make it more challenging for a thief to enter the property. Protect your most vulnerable entry points using these glass films.
Privacy
Privacy films reduce the visibility through the glass. It makes the glass frosted, mirrored, opaque or patterned to add privacy to your space.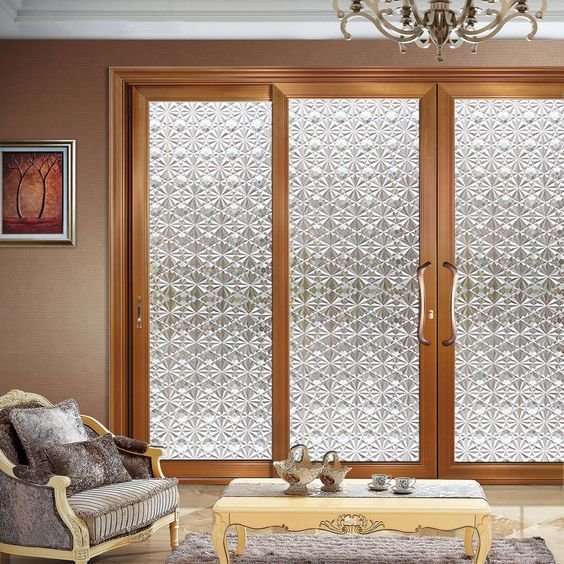 Decorating, Signage, And Branding
Graphic design films are generally used for commercial applications. You can print out your graphics or artwork to advertise or to beautify your space.

Switchable Glass Films
Switchable films can be switched from opaque to clear using a regulated voltage under 36V AC. Moreover, when it's opaque, it can be perfectly used as a projection screen that is viewable from both fronts.
Automative Styling
Reduce the heat and glare of the sun in your cars and make them more comfortable using these tinted glass films for car windows.

Buy Glass Films For Your Home/Office Here.
Buy Glass Film For Your Car Here.