In Indian homes, Balconies or open verandas are something that has always been an essential part. Even homeowners today opt for decorative balcony railing designs that can safeguard homes and offer privacy. 
Balconies are basically everyone's favorite spot where they can have an evening cup of tea. So, one must pay attention to the aesthetic of the balconies including balconies railings, etc. 
They will secure your safety and also offer a beautiful look. To enhance the visual look of your home, there are several materials available in railing designs that you can try out such as Glass, wood, iron, etc. They look quite amazing and are some of the commonly used materials for a home balcony design.
Balcony Design With Glass Railings 
A glass railing design looks amazing and consists of plain glass panels that are not framed by other materials such as steel or iron. It adds an element of luxury giving the apartment or home a stunning look.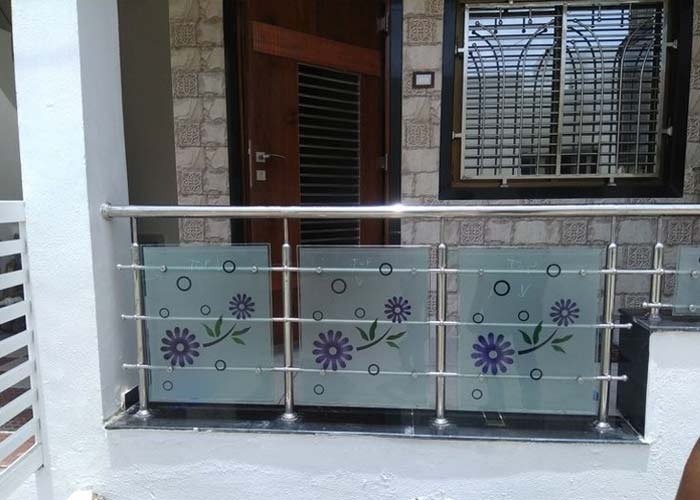 If you are looking for a budget-friendly and stylish option for your balcony railing design then glass railings are something that is quite popular. One can easily try out these balcony designs and enjoy the clear vision from there. You can also have a look at modern stairs railing designs in steel as well to enjoy the smooth finish. 
Balcony Railings With Iron Railings Designs 
Iron railing designs are also an amazing option to consider as they offer a solid structure and secure your home. One can easily use Iron railing material as it adds an additional layer of security. These railings are absolutely amazing, low maintenance, and super strong.
The best part about these balcony railings is that one can paint them in any color to match the theme of the home. The maintenance of these modern balcony Iron railings falls within budget. To prevent them from rusting, Iron balcony railings need a touch-up of paint. 
Balcony Railing Design With Stainless Steel 
Stainless steel is a superb long-lasting material that is durable and has long-lasting non-rusting properties. It is an amazing choice for many homeowners as they have a long operational life. One can easily use stainless steel material for a smooth finish and metallic glow.
Minimalist Balcony Railing Design 
Whenever it is about balcony railing design, less is always more. Therefore, if you are looking for a sleek and minimal balcony design for your home, you need to pick the simplest glass or iron railing design and incorporate the ideas without any hassle. 
All you need to do is place a few pillows and potted plants to get started. One can easily have a vast carpet, well-selected brass chandeliers, and another color scheme that will make a balcony design look elegant and beautiful. 
Wooden Balcony Railings 
Out of various beautiful and natural materials, wood is a superb natural material that offers a rustic appeal to any balcony railing design. 
One thing that you need to take care of the wooden balcony railing design is that they require high maintenance and if you opt for this kind of balcony railing design for the home then ensure that you check them every few months.
You can even check out modern staircase designs as well that can complement wooden balcony railings. 
Aluminum Balcony Railing design 
An aluminum balcony railing design is one of the best balcony railing designs that you can install with ease, These railing designs are easy to install, durable than any wood or plastic design. If you choose an aluminum balcony railing design, it can protect you from significant corrosion. 
Apart from that, Aluminum balcony railings are also made of soft metal when compared to stainless steel or iron. In short, aluminum balcony railing designs are much better material for choosing these railing designs. There is another modern steel railing design as well that looks stunning and offers a defining structure. 
Deck-Style Balcony Railings 
If you want to give your balconies a luxurious look, then try out fancy boat deck designs. It will offer a stunning appeal to your balcony, especially with steel. One can easily find this kind of design in resorts and fancy hotels that will make the perfect hosting for friends for a weekend chill session. Try balcony safety grills for a fancy look.
Conclusion: No matter whatever balcony railing design you choose, metal fences are the materials that look quite amazing. Aluminum and other metals are the ones that offer a gleaming color and look. You can pick up a modern iron railing design for balconies or any other design that can make contemporary architecture look stunning.