Make your home look beautiful by adding aesthetic furniture and paintings to your wall. These wall arts can add a furnishing touch and make your home look beautiful. One can choose a tree wall painting to enhance the beauty of the living room, kid's room, bedroom, or kitchen wall.
Now, you can easily capture the beauty of nature inside your room and make your space surrounded with an essence of purity, blissfulness presence of tree arts. Here, are some amazing Tree wall painting or wall art ideas that you can incorporate in your house and give your house a refreshing look of nature.
3D Tree Wall Painting
Give your Living Room a realistic visual effect by adding brilliant 3D Tree Wall paintings or stickers. You can choose designs depicting flowers, trees, and other natural elements to make it look stunning.
Opt for a Metallic 3D Tree wall painting that you can find with ease in all varieties, colors, and sizes. So, choosing that will make a perfect match with the whole room vibe.

You can also opt for a 3D family tree photo frame and put that onto your wall. You can put your family picture on the wall at each branch of this tree sticker.

Go for a 3D Wall tree Painting that looks elegant and classy. You can decorate your wall with tree decals or

tree-shaped shelves

that serve as a beautiful and inspiring idea. One can make use of these beautiful tree art pieces that can elegantly fill large spaces on the empty walls.
Wall Painting Tree With Birds
If you want aesthetic decor on the walls then try out a Wall Painting tree with birds. You can easily hang the tree art or painting in the corner of your living room or near the door entrance. One can choose a wall painting depicting Trees branches, birds, etc.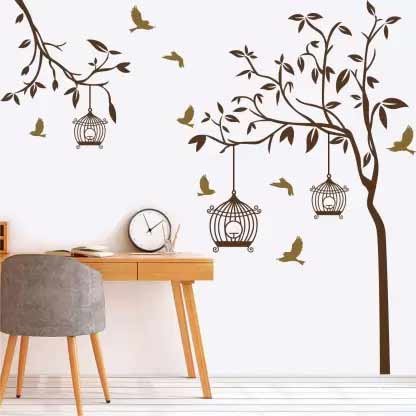 Pick up a wall painting bird on a Branch sticker and place it strategically behind your big sofa set in the living room or on your bedroom wall.


You can even make use of Mixed media tree art and try mixing all the physical elements with colors. One can try out papers and actual leaves to create own tree painting or art form. So, all in all, it is amongst the best

wall painting ideas for homes

that you can try out.
Tree Black Wall Painting
A Tree Black wall painting offers a sense of peace and adds a finishing touch to the gallery wall. You can start with the stylish and decorative tree black wall pictures for the living room. These wall paintings look really amazing and you can add these paintings or landscape pictures to your favorite aesthetic.
Pick a Tree Black wall painting available with high-resolution prints. It will create a wonderful contrast no matter what the color of your wall is.

Decorate your boring walls with gorgeous tree printing images. For instance, you can choose modern

wall painting patterns and combinations

that can instantly enhance the decor of your space. Go with a Black colored wall painting that is in trend.
Creative Tree Wall Painting
If you are tired of staring at the blank walls then try out Creative Tree wall painting ideas that look beautiful and inspiring. Choose a Wall painting with having a large tree with long branches that can decorate a room corner or you can even stretch them out to decorate two walls giving a unique look to your bedroom.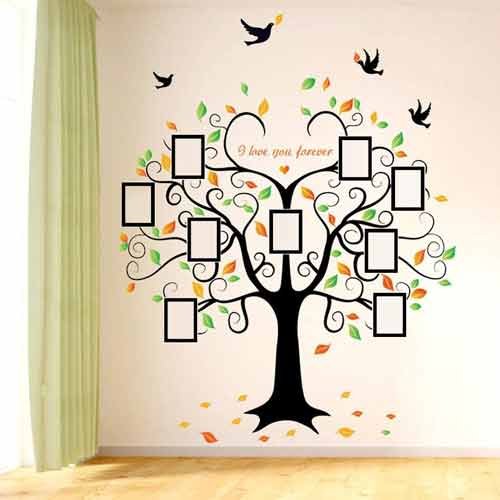 For instance, have a look at this mint-colored modern and creative tree wall painting that looks wonderful with a grey background. In addition, every element is added in such a way that gives a complete aesthetic vibe.
Wooden Tree Design On Wall
Whenever it comes to wall decor, we tend to choose wall art that is durable and depicts the essence of our vibe. And, for that matter, the wooden tree design on the wall looks really amazing. There are lots of varieties available online that you can choose from. For instance, you can opt for wooden tree bookshelves or a wooden painting that can add a beautiful accent to the wall of your room.
For instance, you can have a look at this wonderful three-panel cutout wooden tree design that goes really well with the wall color. It is made out of ebony wood, cherry, and beautiful maples that is offering a semi-glossy finish. Each panel is precisely cut and is made ready to hang on to your wall. All you need to do is hang each panel on the two nails placed in each upper corner. Spread these panels apart and add space, dimension, etc to make out a perfect wall painting.
Metal Tree Art on The Wall
If you are looking for a tree wall painting then nothing looks better than Metal Tree Art on the wall. It will offer a three-dimensional effect. You can easily install that besides your sofas and beds to enjoy the touch of leaves and branches besides.

Metal tree arts are absolutely perfect for your walls if they are vacant. These wall arts are beautifully built with wonderful craves and paint on the metal that offers a pure young look forever. Also, there are many ways in which you can put up these tree wall arts. Cover up the corner of the wall with tree grace and the flying birds. So, what is the wait then? Enhance the wall decor with wall artsand give your house a stunning finish.