If you are thinking about adding some luxury to your home that benefits in creating both health and a better look to your home, then you need to consider adding an indoor pool. In this article, we will give you some concepts and designs for your own indoor pool.
Advantages of Having an Own Indoor Pools:
Indoor pools are a wonderful way to add luxury and value to your home.

Indoor pools can be used for fitness, relaxation, and entertainment purposes.

Investing in an indoor pool is a wise choice that can provide

long-term enjoyment and benefits

.
Indoor Pools for Homes
Indoor pools for homes come in all shapes and sizes, from small lap pools to large family pools. One popular option is the regular rectangular pool, which is both classy and good looking. 
Another popular option is the free-form pool, which can be designed to suit any location and can be customised to include features like rock formations and swim-up bars.
Indoor Pool Designs:
When it comes to indoor pool designs there are many popular designs include:
Infinity Pools: Infinity pools are a form of pool that creates the optical illusion of a never-ending pool.
The design of infinity pools features one or more borders that are lower than the water level, allowing the water to flow over the boundaries into a catch basin, creating the illusion of water without end. 
Also Read: Pool Waterfall Ideas To Improve The Appearance of Your Swimming Pool
Infinity pools are often located in areas with attractive places, such as mountains, ocean fronts, or scenic landscapes, to create a breath-taking sight. The design of an infinity pool can also make it appear as if the pool integrates with the neighbouring environment.
Infinity pools are popular in luxurious resorts and high-end residences, providing a relaxing swimming experience.
Lap Pools: Lap pools are a type of swimming pool that is suitable for individuals who want to exercise in their pool. They are usually long and narrow, allowing swimmers to swim back in a direct line without interruption. 
Lap pools are designed for swimming lovers and are deeper than other types of pools, allowing people to maintain a consistent depth while swimming.
Lap pools are a fantastic option for those who want to get a decent workout in the comfort of their own backyard, as they provide a convenient and private space for exercise.
You may also like to read: 6 Methods For Enlivening And Organizing Your Grey Living Room
They are also excellent for those who are training for swimming competitions, as they allow for uninterrupted practice sessions.
Plunge Pools: Plunge pools are tiny and shallow swimming pools that are designed for relaxation and chilling off. Plunge pools are usually only a few feet deep, making them ideal for lounging in the water, or getting refreshed after a stressful day. 
They are often used in other water features such as fountains, cascades, or nozzles, to create a more spa-like experience. Plunge pools are a wonderful addition to any home, as they provide a private and relaxing space to decompress and cool off in the comfort of your own home.
Spa Pools: Spa pools, also known as hot baths or Jacuzzis, are designed for relaxation and therapy. These types of indoor pools come furnished with built-in nozzles that can provide a relaxing massage to the muscles.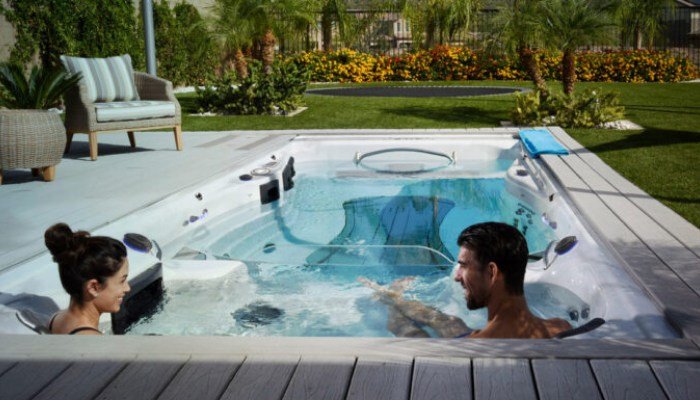 The jets can be adjusted to provide differing levels of pressure, dependent on the user's preference. Spa pools are usually smaller than other forms of pools with a smaller number of people. 
These pools are ideal for those who want to relieve their stress after a hectic day. The warm water and massage options can help to relieve aching muscles and reduce tension, making it a perfect addition to any home spa or wellness centre.
Do you know about these Brick Fire Place Designs To Elevate Your Space?
Indoor Pool Ideas:
If you're searching for some inspiration for your indoor pool, here are a few concepts to consider:
Glass Walls: Adding glass walls to your indoor pool can create a great visual effect, as well as provide a fantastic view of the surrounding landscape.
Underwater Lighting: Underwater lighting can add a touch of enchantment to your indoor pool, creating a gorgeous and relaxing atmosphere.
Unique Tub Shower Combo:
If you're looking to add even more luxury to your indoor pool area, consider adding a unique tub shower combo. This feature enables you to have a shower before and after swimming.
After swimming for a while in a cool water pool, you can warm up your body by this tub shower.
Conclusion:
Having an indoor pool in your home is a luxurious and valuable option that can provide many benefits. Indoor pools come in various designs and offer various features for your requirements, preferences, and budget. 
You can choose to use your indoor pool for fitness purposes by swimming lengths or for relaxation and entertainment by spending time in the water with your loved ones. With an indoor pool, you don't have to worry about the weather, as you can enjoy it any time of the year. 
In summary, indoor pools are an ideal way to add great look, relaxation, and fun to your home, making it a great choice for anyone who wants to live a luxurious lifestyle.
FAQs
Q. Can an indoor pool add value to my home?
A. Yes, they are a wonderful feature that can attract good purchasers and can be seen as a luxurious addition. Indoor pools are also a wonderful investment for your own enjoyment.
Q. Are indoor pools expensive to maintain?
A. Indoor pools can be more expensive to maintain than outdoor pools due to the expense of heating and ventilation. Regular maintenance and appropriate treatment can also help keep costs down.
Q. What are some safety considerations for indoor pools?
A. It is important to ensure that your indoor pool meets all necessary safety requirements, such as having appropriate fencing and covers. You should also consider adding safety features like pool alarms and non-slip surfaces. Proper supervision and instructing children about pool safety are also essential.
Consider reading: